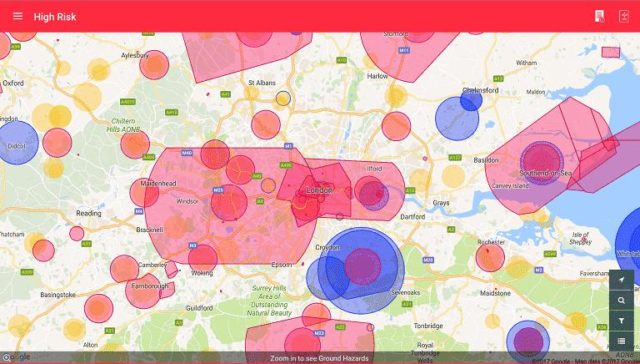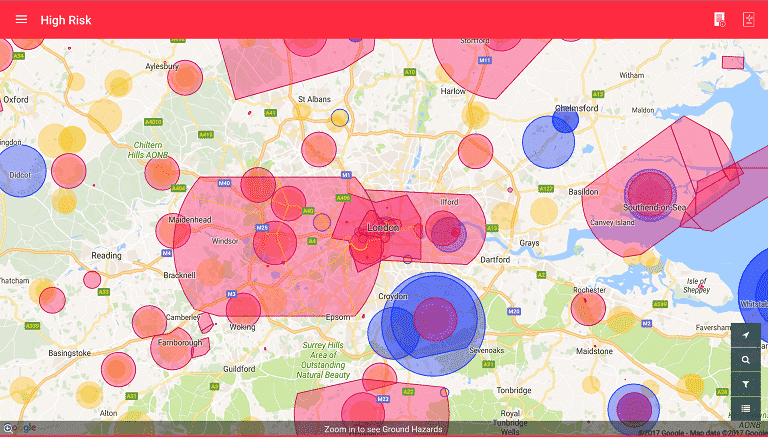 Today, we are pleased to announce a brand-new service exclusively for Coverdrone customers: "Coverdrone FlySafe", a completely free app designed to help our customers plan and conduct their drone flights quicker and safer than before.
The companion app (available for iPhone, iPad and Android devices) delivers rich and accurate safety data ranging from airspace maps, dynamic restrictions, environmental conditions, privacy and safety hazards and even the location of much of the low-flying manned aviation traffic, straight to the palm of your hand.
Andrew Heath, Director at Coverdrone said: "we're delighted to have collaborated with Altitude Angel to offer this value-added service to our customers; it's another step forward in making life as easy as possible for commercial drone operators to fly safe at all times."
Coverdrone FlySafe is completely free of charge for all existing and new Coverdrone policyholders.
Coverdrone Flysafe App Features
Features include:
Relevant, up-to-date information about airspace restrictions (including detailed NOTAM information), ground hazards and weather based on your location (or ahead of time for any location);
One-tap detailed "area reports" quickly summarise complex operational environments and provide a quantitative assessment of the overall of conducting an operation in the specified area – great to help you decide whether to accept the proposed job;
A direct connection to Altitude Angel's global UTM system, which optionally lets you share your drone flying location with other commercial drone operators and aviation stakeholders.
With Coverdrone FlySafe our customers can spend less time sourcing information and more time flying, with advanced features specifically tailored to support their commercial due-diligence activities:
Optional activation of Airspace Alerts: Altitude Angel's premium airspace monitoring service included at no charge for Coverdrone customers. Airspace Alerts takes your declared flights and automatically watches for important events or potential hazards, such as the presence of incoming low-flying aircraft;
Inclusion of air-traffic control telephone numbers;
One-touch navigation guidance to jobs on-site.
Richard Parker, founder and CEO of Altitude Angel commented: "Altitude Angel are excited to have partnered with Coverdrone – the UK's leading provider of commercial drone insurance – to deliver their new 'FlySafe' application for iOS and Android. FlySafe is connected to Altitude Angel's GuardianUTM platform and has several features unique to Coverdrone policyholders aimed specifically at supporting commercial drone pilots. We look forward to continuing our innovative work together to safely unlock the potential of drones."
With Coverdrone FlySafe powered by Altitude Angel, you'll always have access to the latest accurate operational data for better situation awareness.
The Coverdrone FlySafe app is available to download immediately.
Once installed you will need to register and provide your Coverdrone policy number – please contact Coverdrone if you need any assistance with this.
If you already use an app from Altitude Angel you can download our FlySafe app, login with your current details, enter your policy number, and this will unlock the extra features of FlySafe.
#gallery-1 {
margin: auto;
}
#gallery-1 .gallery-item {
float: left;
margin-top: 10px;
text-align: center;
width: 20%;
}
#gallery-1 img {
border: 2px solid #cfcfcf;
}
#gallery-1 .gallery-caption {
margin-left: 0;
}
/* see gallery_shortcode() in wp-includes/media.php */