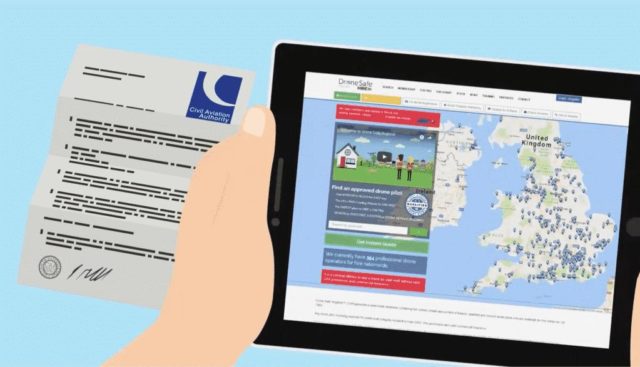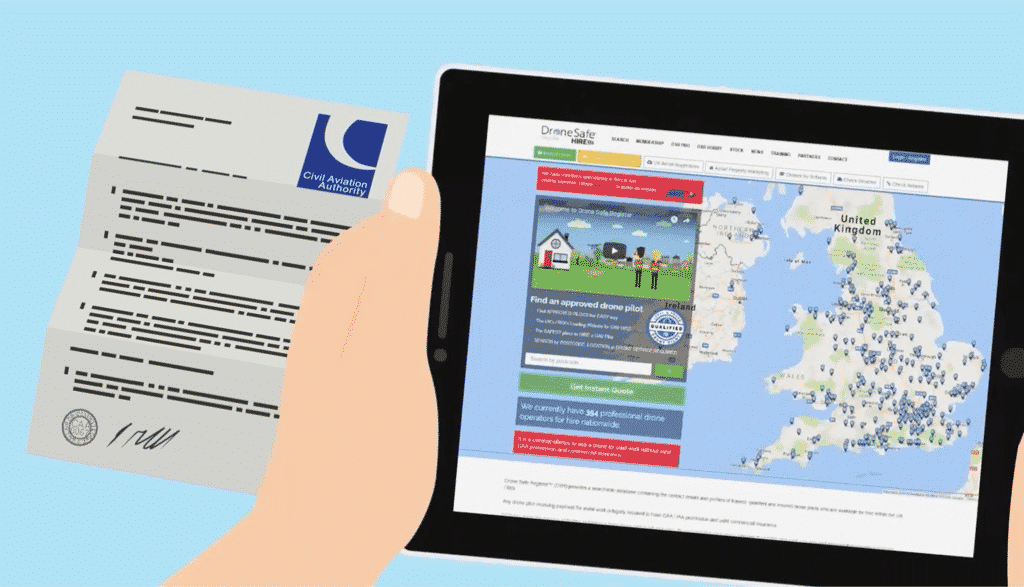 The Drone Safe Register (DSR) is a community hub for commercial UAV operators. From drone loans and hardware deals, Coverdrone insurance discounts, and links to CAA-approved training – it's all about promoting best practice for small unmanned aerial vehicles…
The UK's largest network of approved drone operators has been running since early 2016. With experienced UAV pilots located across the UK, the Drone Safe Register has become a superb online tool for anyone wanting to hire safe and trusted commercial operators.
With nearly 400 professional drone operators on board, Coverdrone is delighted to have established a partnership with the DSR.  
Mark Boyt, founder of Drone Safe Register, told us why he launched the site: "It was out of frustration really, because there were more people acting illegally than properly qualified drone pilots.
"They were charging money, without completing training or taking out drone insurance. I wanted to create a safe platform, help to promote honest and professional operators, and make it all transparent."
The DSR is a not-for-profit concern, something Mark hopes to preserve as long as possible. It is run for its members. However, as it continues to grow, it is increasingly hard to find time to update the site.
"I suppose it's become a victim of its own success," he said. "The drone industry is still new and evolving, so we need to promote it. I spend hours on DSR every month, dealing with operators and the public. I do enjoy it.
"The most important thing is finding legitimate members valuable work around the country. We have helped to clean the industry up. There are now less people acting illegally. More companies who contact UAV operators are now aware that they should check who they hire. We take that hard work out of the equation."
Why Use Drone Safe Register?
A wide variety of clients make use of the Drone Safe Register. The service is trusted and used by a range of organisations, such as insurers, loss adjusters and local authorities. And when requests for drone services are logged using the DSR search function, there's a common-sense way of allocating work.
"We're the only directory that is fair and trusted. Every member appears on the main home page. When a potential client is looking for a commercial drone operator in, say, Bolton, the nearest four members get referrals.
"There is also a stock video section with footage of all types of overhead work available to purchase. This is a way for members to monetarise their work. The DSR takes no commission. It's one of many member benefits."  
It's not all about work. When members are short of kit or have an emergency, the collective is there to help out.  
Mark explained: "When a member gets in touch with an issue, maybe because they need additional or enhanced kit, we're there to help in the short term. A message goes out to all other members to see if other operators have spare hardware that can be loaned out. No fuss, just a network of like-minded professionals working together. That's the point of the DSR."  
Where Next For The Drone Industry?
The drone industry offers so many opportunities for pilots and clients looking to make use of the photo and video images made possible by cameras linked to high-tech UAVs. However, a number of hurdles still need to be overcome. 
"The safe distance rule holds many operators in the industry back. As things have developed, 50 metres just doesn't work. The industry needs to grow and move forward, so this needs to be changed.
"There are so many costs and administration charges associated with applications and permissions, and this puts people off. Drones and pilots are much safer now, so it's time for a rethink."  
One development for DSR is the inclusion of recreational drone pilots. The numbers are growing, and Mark believes that it makes sense to register them early so that accountability and tracking become easier.
"The DSR was always about professional drone operators, but we didn't want to exclude recreational users. Many of them progress to become professionals. So we give them a card, an ID tag, registered with DSR, plus access to essential information. This gives them credibility and encourages them to act responsibly.
"Eventually I believe that a digital tracking system will be fitted to all aircraft. By a certain date there will be tags added by manufacturers so that drones can be identified. The CAA will know who is in control. Everyone will be safer."
Future drone capabilities are always being discussed, and at the start of April Mark couldn't resist having a bit of fun. "We announced the launch of a delivery drone service. It was a spoof, a bit of a laugh, based on the rumours that such a service will eventually come to market.
"Amazingly, people wanted to book the DSR delivery service. But seriously, on the back of the new drone bills being considered, I think within three or four years we'll see delivery drones in action around the UK…"
Many thanks to Mark for his time.
If you have any questions regarding the exclusive Coverdrone benefit for DSR members please email info@dronesaferegister.org.uk for details or contact a member of the Coverdrone team.