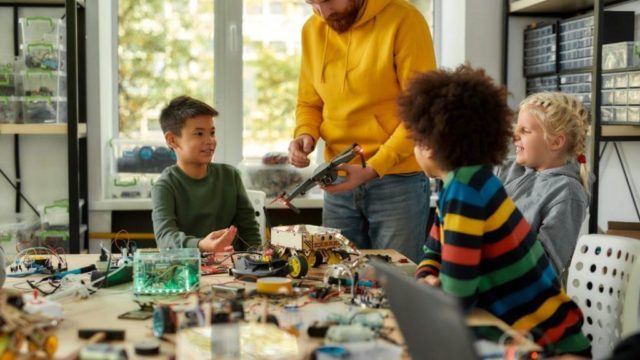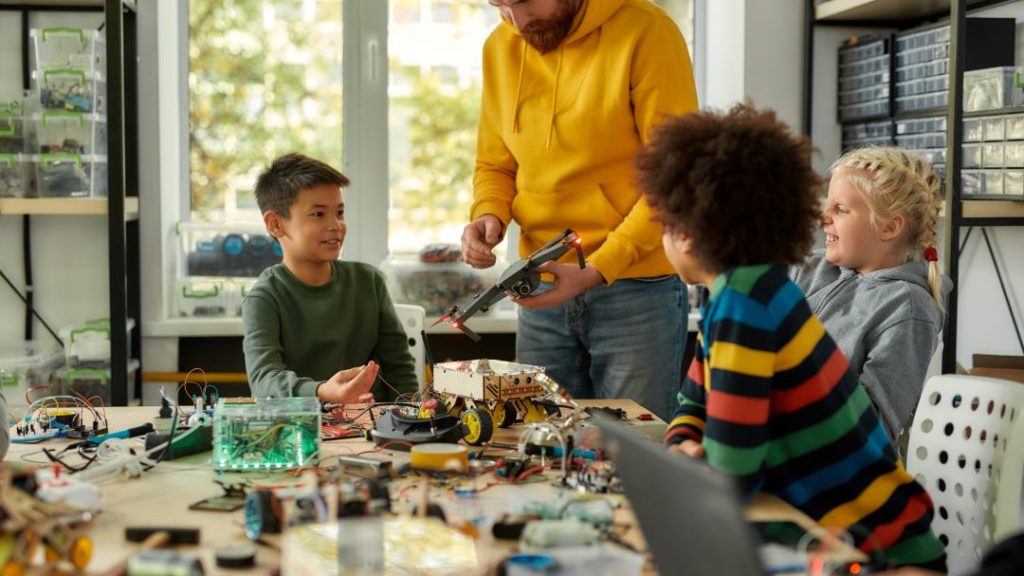 Technology is present more than ever within the classroom nowadays. Teaching is evolving far beyond the traditional textbook, pen, and paper. The education industry has seen the rise of the interactive whiteboards, handheld tablets, and laptops soar within the classroom and home learning.
During the recent Covid-19 pandemic, more than ever the educational sector relied on technology for day-to-day education before educational institutions (schools, colleges, and universities) reopened again. Physical classroom learning was swapped for home virtual learning. This new way of teaching was something that teachers, students, children, and parents themselves had to adapt to the new way of virtually learning and it became evident just how important technology is within education.
Using drones within education is a unique method for teachers to ensure that their students and children are engaged and learn about technology in an exciting new way! It can also lead to future career paths. Coverdrone look at some of the ways in which drones help teaching professionals and students…
Drones as a 'learning opportunity'
For a student to be able to create and work with a drone brings along many opportunities that they may not have experienced before… In America, a drone solution company teamed up with an educational programme to 'bring drones into the classroom as an educational tool' which helps students to taught such skills as learning how to code, programme or build technology. The programme helps to 'build critical thinking and problem solving skills in addition to technical skills, which will benefit them on any career path they choose'. Therefore, even if a student doesn't aspire to become a drone operator they are still gaining valuable tangible skills that can be used throughout their life and chosen career!


In recent years, Samsung released an Alternative Careers Guide which researched desired alternative career routes for young people. As a result of the recent Coronavirus pandemic, many people are rethinking their career options and ready to take on new challenges and different pathways in life. They conducted a study of 3,000 16-18 year olds. The data concluded revealed careers such as a drone pilot, app developer and 3D prop designer are among the roles that teenagers most aspire to. The research confirms that the majority of this demographic are now leaning towards careers in tech, moving away from traditional roles.' To become a drone operator was featured in the list for Samsung's Top 10 desired Alternative Careers Guide!
Drones building intellectual and creative skills
Students learn best in a multitude of ways. Some learn best by comprehensive learning, others a more interactive approach or learning by destroying and rebuilding. How can this way of learning benefit a student? By destroying and rebuilding, it can enhance a student's memory building and intellectual skillset. Bringing drones into the classroom levels up the way children learn in a technological advanced way. Through trial and error, taking a drone apart and rebuilding it helps to practice patience and a hands-on approach to learning about the components of drones.


Technology is becoming more advanced daily and one element that goes hand in hand with technology is coding. To be able to code is a unique skill and jobs for coding are hot in demand across the world. How can a drone work in alignment with coding? Drones can provide an essential hands-on learning experience as students can see the results from their coding via the programmed drone. It is a great way to engage students into code writing programmes because they reflect such skills of computational thinking. Furthermore, such writing programs enable drones to conduct autonomous flights. Learning about coding by drones can really enable younger students to recognise the true potential of their skills.


The future of drones used in education
There is no doubt that the use of drones within the classroom and beyond for teachers and students is an extremely powerful tool to enhance their learning. By harnessing such skills learned as the result of being taught them by a drone, it can place students one step ahead for success. Why? Evidently, the demand for technological proficiency is only going to continue to rise throughout the upcoming years as technology evolves continuously throughout our future and beyond! Teachers themselves are thriving in their teaching potential from discovering these new, exciting, and unique ways of teaching.
As always, please ensure that all drone operations are compliant with the relevant drone laws and regulations. If you would like to discuss our drone insurance policies, please do not hesitate to get in touch today with a member of our Coverdrone team who will be happy to help you with any queries.