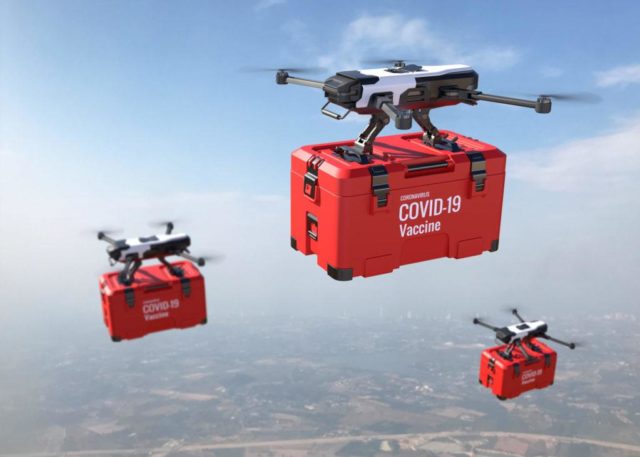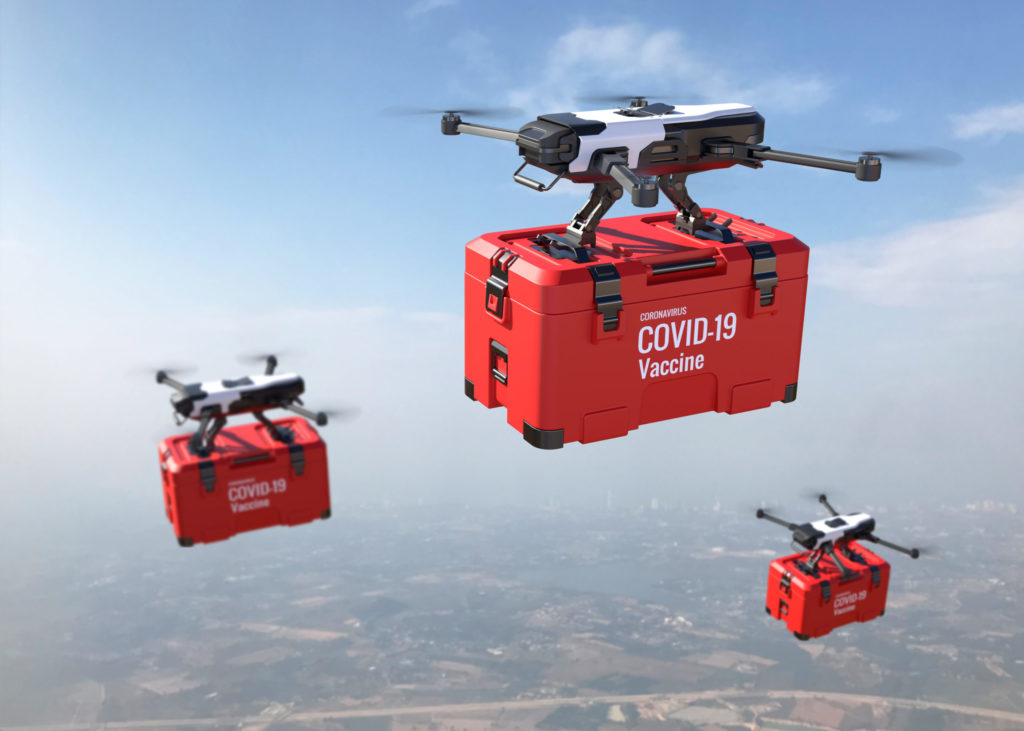 Using delivery drones could be the way forward to help combat the Covid-19 pandemic.
Necessity is at the heart of drones for emergency service use purposes. The second wave of the coronavirus has approached India rapidly and the world are working on ways to deliver and transport vaccines to those in crisis.
The Government of Telangana in India have given the heads up to their proposal of experimental delivery of vaccines using drones. Telangana is the first state in India to have been given permission by the Ministry of Civil Aviation to conduct the experiment.
Medical delivery drones have been playing a significant part in the battle against Covid-19. They have been at the forefront of distributing PPE and test kits throughout Scotland. Specifically on the Argyll and Bute Islands. More recently, delivery drones have contributed to life saving transfusions by delivering blood samples. 
Are drones being used in the UK to combat Covid-19?
At the end of last year, we saw the NHS teaming up with a UK based drone company to deliver vaccines between hospitals in the Scottish Highlands as part of a trial.
The drones flew BVLOS (Beyond Visual Line of Sight), delivering PPE and test kits. The reason behind the trial is to look at how the NHS can implement drones into the delivery of vaccines in the future within the United Kingdom. Workers of the NHS will be able to make requests both instantly and scheduled online for healthcare facility delivery by the drones.
Drones can spray disinfectant aerially, sanitising areas that are potentially contaminated and hard to reach. This includes large spaces such as stadiums and indoor buildings.
As the event sector is pending opening within the UK, this method could come at a great advantage to keep the event spaces sanitised and safe for those attending events.
The World Health Organisation expressed that social distancing is the best practice to minimise spreading of the Covid-19 virus. By keeping distance between people, this limits the chance of encountering with a carrier of the virus. The technology of drones can monitor social distancing and detect people who are going against guidelines.
Remote places with less healthcare investment are especially in need of access to vaccines and the delivery of the medication by drones could be life saving for them. 
If you use drones for medical deliveries, or deliveries of any kind please contact us. We have a range of flexible policies for commercial operators that will accommodate BVLOS flights.