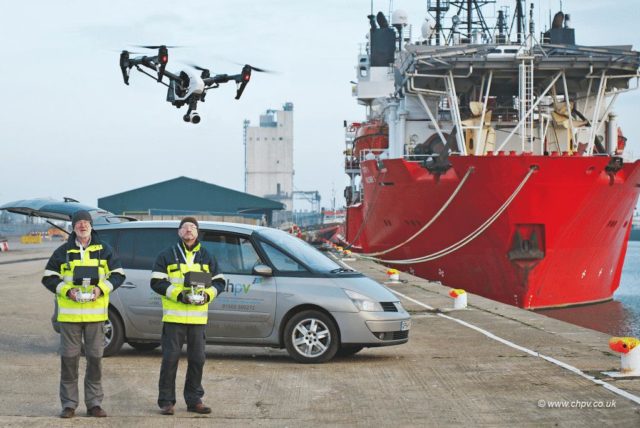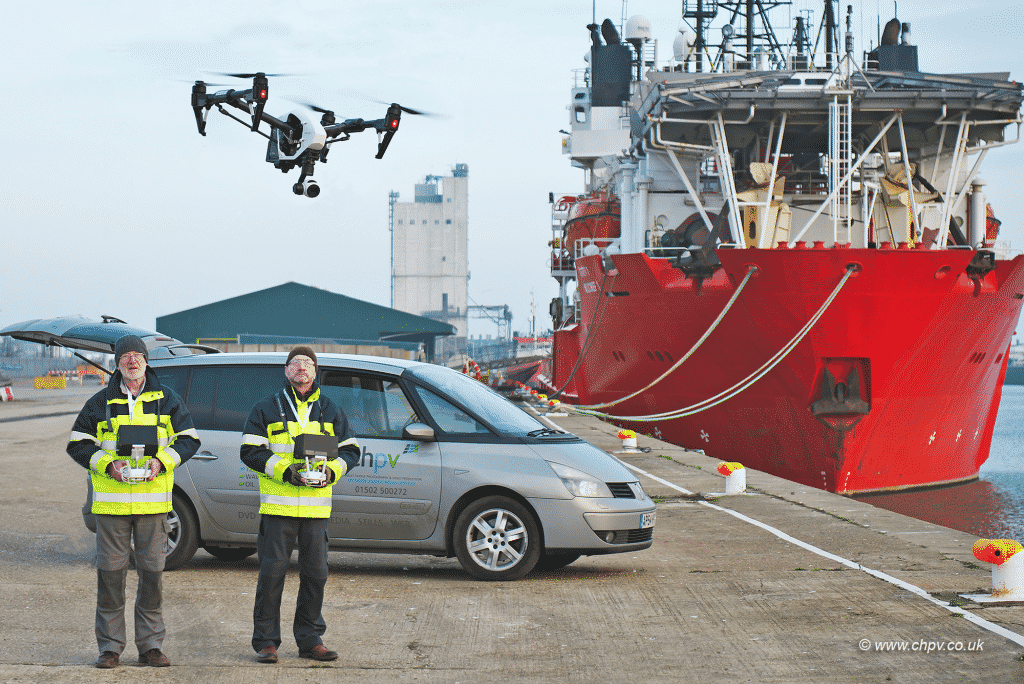 When you boast 50 years' offshore filming experience you'd better deliver exceptional quality. That's exactly what UAV experts CHPV offer clients: breath-taking video and photography from Europe's most experienced offshore media company…
Watch the dreamy drone footage on CHPV's impressive show reel and it's apparent that the team are at the top of their game. Sit back and enjoy effortless filming that captures rolling countryside, dramatic urban developments, transport in action, water sports and windmills.
However, it's the unknown that really excites. Those far off places otherwise out of bounds to Joe Public, the off-shore oil rigs, gas installations and mighty wind turbines that really grab website viewers' attention.
A Truly Safe Drone and Helicopter Operator
Charles Hodge Photography and Video Production, in case you were wondering about the acronym (CHPV), has been photographing and filming the kind of industrial engineering that powers nations for over half a century.
Although the UK coastline has for many years provided an abundance of work, the company has secured contracts all over the world; from the harsh waters of the North Sea to the hot sands of Dubai. It's the kind of insurance cover to make you tremble, but Coverdrone is delighted to have supported CHPV since 2016 to keep them pushing the boundaries of filming with small unmanned aerial vehicles.
Initially photography based, under the watchful eye of Charles Hodge, when Alan O'Neill joined the company in 1984 he added film production to the portfolio. Helicopters carried the top-end camera gear for many years, but CHPV were early adopters of drone technology.
Alan told us more: "We started with UAVs in 2014, and our original plan was to hire in a drone operator to work offshore with us. However, there is a strict safety regime offshore which requires lots of training and certifications whatever you are doing. Finding no one as well offshore qualified as we were, we decided to try drone flying ourselves."
That meant undergoing drone training. That was undertaken with Whispercam, online, and through Elliott Corke of HexCAM in Norwich. But the CHPV team went further, as Alan explained: "Even having qualified for a CAA PfCO, we spent a lot of time and effort learning to work together as a pilot and cameraman team."
That dedication certainly paid off. With such pedigree and half a century of flying various aircraft under the organisation's belt, to boast a 100% safety record is mighty impressive and something they should be proud of.
That pride extends to the Coverdrone team as well, especially when Alan sent these kind words: "We have been with Coverdrone since day one. After a lot of phoning around we found Coverdrone to best understand our needs. There is always someone on the other end of the phone when you need them."
UAVs Keeping Tabs Of Future Power Sources
Originally oil and gas installations, the bulk of work nowadays involves renewable energy projects. The footage gained around some of the offshore wind farms is, quite literally, breath-taking.
There have, of course, been some unusual projects involving CHPV's small unmanned aircraft. Alan gave us the details: "Funnily enough, our first commercial project turned out to be the most unusual we have undertaken so far. James Fisher Marine wanted us to fly the drone inside a big warehouse (similar to the final shot in Raiders of the Lost Ark).  We had never undertaken an indoor flight before, so that was a big learning curve."
Whatever project CHPV take on it's usually exciting and challenging. No two days are the same, and the weather is always a factor in the work they perform. What they provide clients is incredibly valuable, and drones have certainly made a difference to Alan's life.
"For the last 35 years I have been filming by hanging outside twin-engine helicopters, in temperatures down to -15C.  Now I can stand in relative comfort on the helideck of offshore platforms and vessels. Being able to get closer to the action with amazing stability we can get really dramatic shots, and the clients appreciate the reduction in costs too."
And finally, check out some of CHPV's clips from their wonderfully named drone folio!