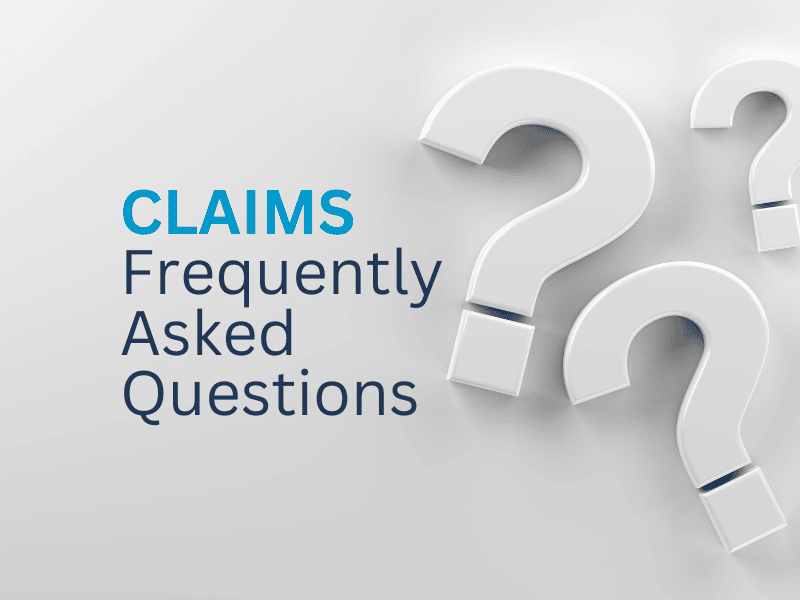 We understand you may have lots of questions if you need to make a claim. Below we have provided answers to the questions our customers regularly ask us to help.
How do I notify you of a new claim?
To begin your claim, simply visit the 'Make a claim' section of our website and select whether you have a recreational or commercial policy with us. You will then be taken to an online form to input the information required to start your claim.
I've filled out the claim form online. What happens next?
You will receive a confirmation email to advise that the claim form has been submitted to us. There is no need to do anything further at this stage. The Claims Team will review the information provided as soon as possible and get in touch with you directly to confirm the next steps of your claim or to request any further information required from you.
What documents do you need from me in order to progress my claim?
In order to progress your claim, we ask you to provide copies of the following information:
You can upload and attach these documents directly to your claim form, as well as any other items which you feel may help to substantiate your claim. Alternatively:
you can email the information to us at euclaims@coverdrone.com but please keep the email size to a maximum of 10mb to ensure it reaches us without issue; or
You can send us the information via Dropbox or WeTransfer if you would prefer.
If you send us any large files, please can you let us know once submitted so we can double check and confirm these have been received correctly.
I have a commercial policy but the incident occurred whilst flying recreationally. Which claim form should I fill in?
It does not matter if you were flying recreationally. If you have a commercial policy with us, please complete the Commercial Claims Form to notify us of your claim.
How long will it take to settle my claim?
We know how important it is to get you back up and running again as quickly as possible following an incident and are committed to providing you with a first-class, fast claims service. Whilst we can turn around claims in less than 48 hours, the duration of your claim will naturally depend on the individual circumstances involved. A quick response to any queries raised from our Claims Team and ensuring you supply us with the correct documentation at the start of the claim will help to speed up the process and avoid any unwanted delays.
You have asked me to provide my Flyer/Operator ID, but I am not sure what this is. Can you help me?
You have asked me to provide flight data. How can I retrieve this?
Flight data from the date of the incident is a useful resource to understand exactly what happened and to help substantiate your claim.
Please provide any flight data files in TXT format. It should look something like the example below:
DJIFlightRecord_2019-08-01_[11-15-07].txt
How you retrieve flight data will vary depending on the make and model of your drone. Below we have provided some useful links to help you:
DJI GO
DJI GO 4
For Android devices – Connect your mobile device to a computer via a USB cable and go to: DJI\dji.go.v4\FlightRecord
For the Phantom 4 Adv/Pro + remote controller or DJI Smart Controller – Connect your remote controller to a computer via a USB cable and go to DJI\dji.pilot.pad\FlightRecord
For IOS devices – Follow the instructions here: https://www.phantomhelp.com/tips/how-to-retrieve-dji-go-flight-logs-from-itunes.29
DJI FLY
For IOS devices – Open Files app on IOS and go to DJI\dji.go.v5\files\FlightRecord
For Android devices or DJI Smart Controller – Go to: Android\data\dji.go.v5\files\FlightRecord  
If you are still having difficulty retrieving the flight data, please speak to a member of the Claims Team who are on hand to offer any support you need.
I have a recreational policy and have been asked to provide you with proof of purchase but I don't have the original receipt. What should I do?
Don't worry, whilst a copy of the original receipt would be the preferred proof of purchase, other forms of verification will be accepted. This could include a copy of the relevant bank statement showing the payment was made and to whom. The Claims Team will be able to discuss this with you further and guide you through the options here.
I had an incident with my equipment whilst abroad. Am I still covered?
All Coverdrone insurance policies offer worldwide cover, subject to certain excluded territories. You must however comply with the local/national aviation regulations to be covered.
My equipment is still under warranty. Can I still make a claim?
Yes, your drone insurance policy would still cover you, even if the equipment is still under warranty, subject to the limits and exclusions as detailed in your policy wording. For any manufactural faults, you would however also have the option to claim against the warranty without the need to pay any policy excesses.
I've made a claim, what now happens to my policy?
Your policy remains in full force until its expiry date, irrespective of whether you have made a claim or not.
Is there a limit on the number of claims I can make in a policy period?
There is no limit on the number of claims that can be made throughout the policy period. However, please be advised that multiple claims may affect the premium quoted on your next policy renewal.
Will the premium on my policy now be affected because I've had a claim?
This will depend upon the individual circumstances surrounding your claim and the total number of claims you have now made. In the majority of cases, especially if this is your first claim with us, it is likely your premium will be unaffected at next renewal.
How much policy excess will I need to pay?
The amount of excess you will need to pay in the event of a claim varies depending on whether you have taken out a recreational or commercial drone insurance policy, and also when you took out your policy with us. Please refer to Part 6 of your policy schedule for specific details of the excess that is applicable to your policy.
Why does it matter when I took out my policy?
In 2022, Coverdrone made the decision to reduce the policy excesses for our customers, at the point of their next renewal, to $55 (recreational user) and $110 (commercial user) for equipment claims and $110 for third-party property damage. However, there may be a small number of customers who are yet to renew their policies since the changes became effective, where the old policy excesses will still apply. From their next renewal date, they will also be able to benefit from the reduced policy excesses.
Will my equipment be repaired or replaced?
If it is economically viable, we will look to authorise the repair of your equipment on receipt of a repair estimate from a reputable dealer. If your equipment is deemed to be beyond repair, we will look to replace for you.
Following my claim, I replaced my equipment. Do I now need to update my policy cover?
Yes, you will need to add the details of your new equipment to your policy to ensure you are still covered. You can do this by updating the equipment details in your Online Account or by emailing us at euoffice@coverdrone.com.
How will you use the information I provide as part of my claim?
Details on how we will process and use any information you have provided to us can be found in our Privacy Policy.
I have a question that has not been listed here. How can you help?
That's not a problem. Our Claims Team are on hand and happy to support with any queries you may have. Simply email euclaims@coverdrone.com or call us on +44 (0)1270 448998. Our lines are open between 9am and 5pm GMT Monday to Friday.