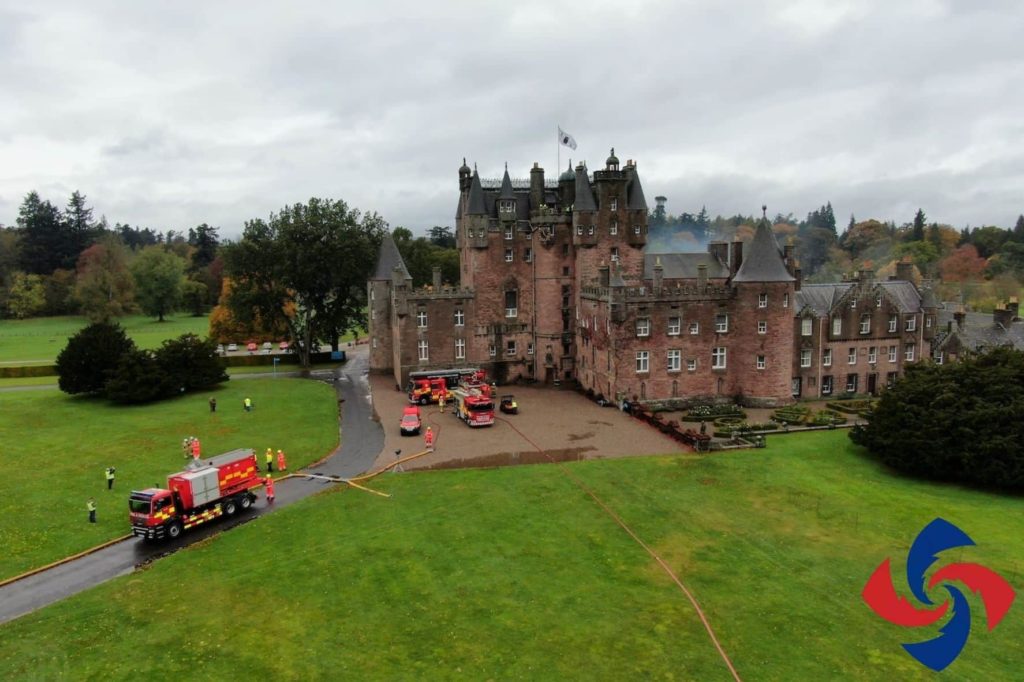 You may be wondering, what is 'Coverdrone in Conversation With?'. It is a series of blog posts where we speak to our partners and clients within the industry so they can share with you their experiences, advice, expertise and so much more with you! So far, we have spoken with DARe-3D and Marc Le Cornu, the founder of Bam Perspectives.
It's the start of a new year and we return with another instalment to the series and our Marketing Executive, Jess Crabtree, spoke with Skykam!
The background of Skykam and who is behind the business!
James Leslie is a retained firefighter and the founder of Skykam, a drone inspection company based in Edinburgh, Scotland. James career began with him working as a technical project manager, he said: "I pivoted to drones once I saw their many uses in the field during my work,

"I was inspired by the use of drones in applications such as renewable energy and construction. I saw that drones were being used for very specific tasks which prompted me to think 'What if we could do more?'

"So from there, I started Skykam Drone Inspections!"

Soon after Skykam began, James brought his son Peter Leslie into the company utilising his background in marketing.

"He has helped to grow the company and expand our reach to new markets. I am grateful for his help, we continue to work together to make Skykam a success", James said.

Delving deeper into exactly what Skykam does, he said: "We are focused on data collection and surveying over drone photography."

Skykam's business areas mainly include: inspection, surveying and mapping. They have a wide range of clients within many markets including the fire service.


Skykam working with the Scottish Fire Service
As earlier mentioned, James worked for several years as a retained firefighter before combining his position with drones. He said, "I saw the potential for drones in the fire service and so did my fellow team".

Skykam provide a variety of services to the Scottish Fire Service such as: filming promotional footage, filming training days and footage for reviewal.

Drones are well known for helping search and rescue (SAR) operations. Skykam have been involved in this kind of SAR operations using their thermal cameras.


"Our drones can help to provide an aerial view of an incident that can be used by the emergency services on the ground."

Mapping services and aerial support are also amongst the many drone services that James and his team at Skykam provide to the Scottish Fire Service. James described these services as 'incredibly useful' when it comes to planning and incident response.

The drones which Skykam use for their operations have the ability to capture high-resolution images and data which can be used to create maps and 3D models, "This information can help to improve situational awareness and help with decision making".

One of the most important parts of the work that Skykam does is site visits. James said: "We often perform site visits to high-risk areas, where we map out potentially dangerous assets. I have met with the senior regional Scottish Fire Rescue commanders over potential of adding drones to these site visits."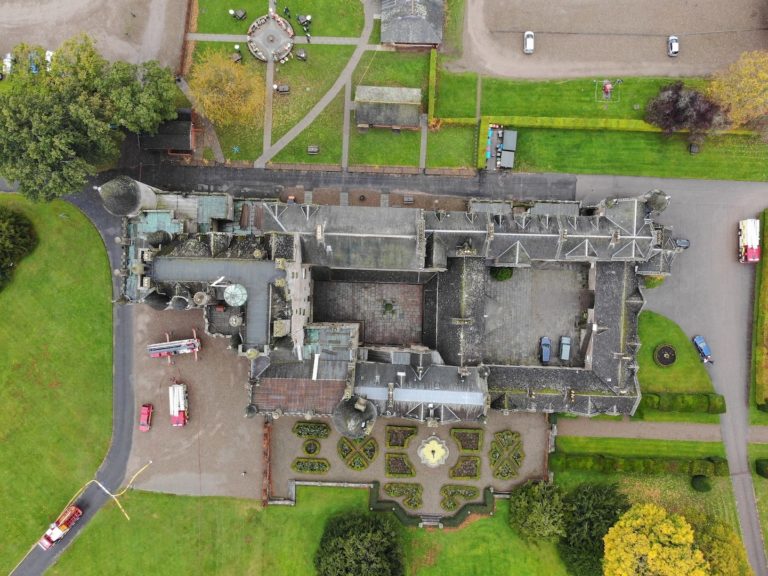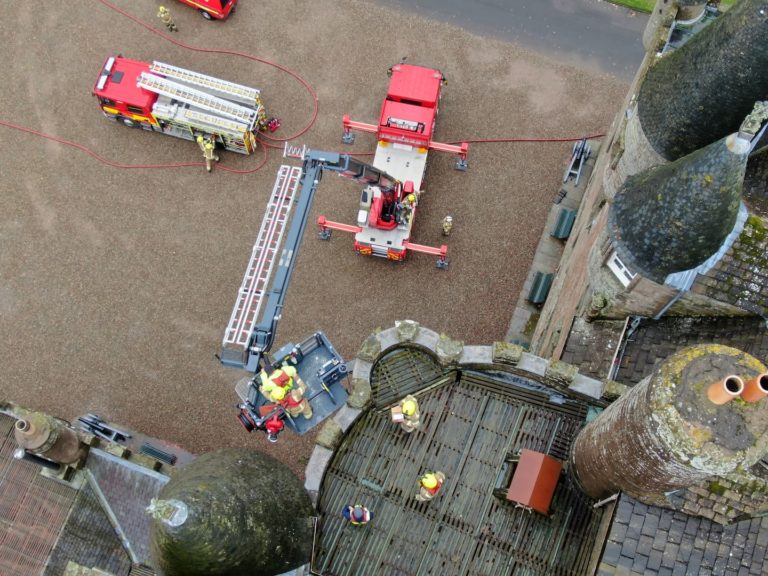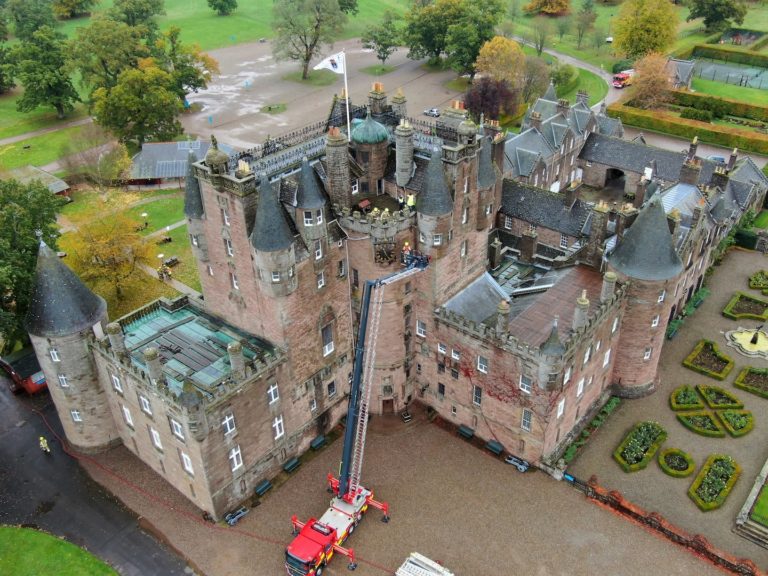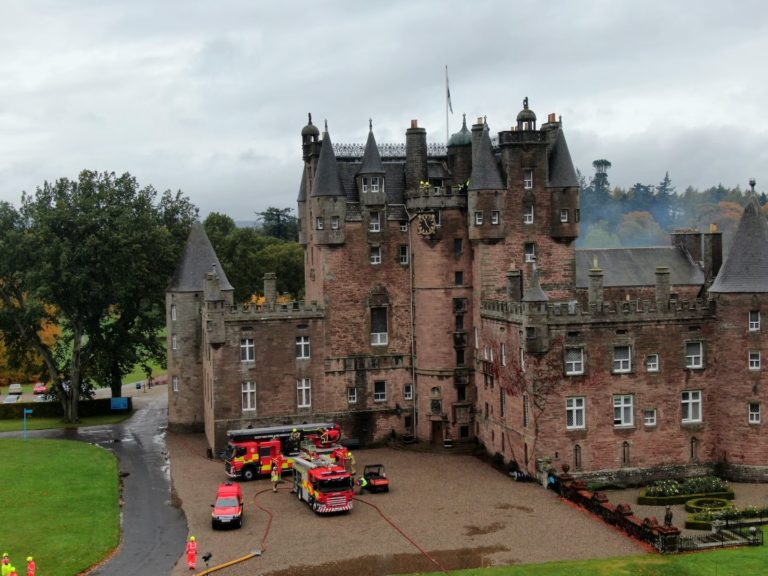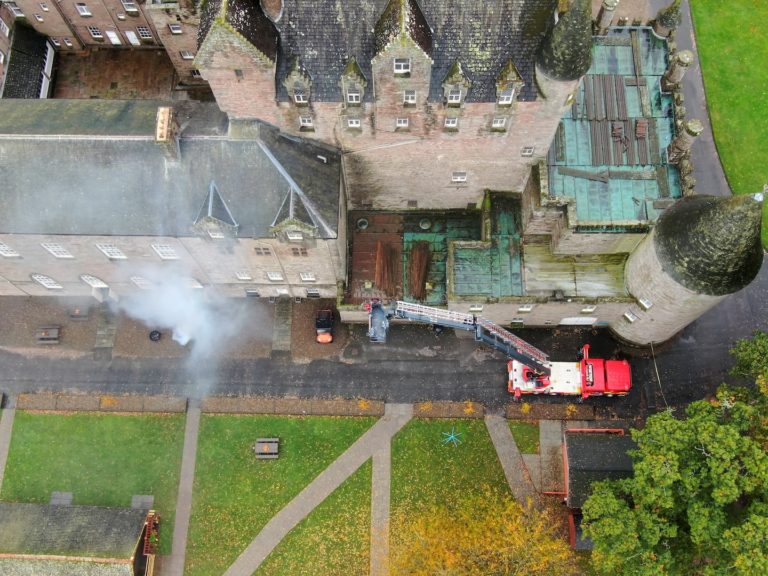 How drones help Skykam's site visits for the Scottish Fire Rescue
Data taken from the drones used to map out a site visit is uploaded to high tech Ipad's that are carried by the Skykam team members on their way to a scene.

James explains what the data taken from the drone can enable Skykam to do "We are able to examine an annotated aerial map taken by drone and identify hazards and vital intelligence.

"The annotation will help commanders on the ground know what to expect when they arrive at a scene, and the encrypted data will help us keep track of high-risk assets. Therefore, we can help the fire service to plan for potential incidents and make sure that they have all the information they need to keep people safe!"


Campaigning to raise water awareness along the North Esk River
We asked James Leslie what one of the most interesting experiences and operations Skykam has had to date. He shared with us an operation where he worked in collaboration with the Emergency Services in Summer'21.

This operation's purpose was to help campaign to raise water awareness along the River North Esk that flows through Angus and Aberdeenshire, Scotland. This was following a series of incidents at the river where the public where involved in long rescues as a result of dangerous actions near the water.

James tells Coverdrone how Skykam and their drone services helped campaign for this, "We helped identify spots along the river where there was a high danger of an accident due to individuals entering the water to cool off in the summer heat,

"We demonstrated temperature swings to members of the public using our thermal zoom imaging drones, as well as current movements in deep water near the banks of certain areas" He said.


How do drones benefit the Fire Emergency Services?
Fires are obviously extremely hazardous, dangerous and spread rapidly. Drones can really enhance how Fire Services operate. James Leslie said: "Fire services need to be able to quickly and accurately identify the location of hazards and our service can estimate what we need for a given fire.

Skykam maintain and constantly update maps and Google Earth images that point out all known hazards such as bridge pilings or buried gas lines that run through residential areas.

"Instead of having to rely on outdated print maps or satellite images from years ago, drones give us quick access to real-time data.


"Drones provide firefighters with access to real-time data that can help them make better decisions in dangerous situations."
What does the future have in store for drones and the fire service?
As a specialist drone insurance business, we are always curious to find out what you think the future entails for drones. So, on a final note, we asked James what his thoughts were in regard to drone usage in the fire service.

James said: "The future of drones in the fire service is likely to involve even more widespread use of the technology. This will include not only the use of drones for reconnaissance and assessment, but I also think for tasks such as delivering equipment and supplies to crews on the ground. In addition, advances in drone technology are likely to lead to even more sophisticated sensors and cameras that can be used to help identify and assess hazardous situations automatically. 
Thank you to James Leslie, founder of Skykam for sharing his experiences with us. We look forward to seeing what is next in store for Skykam and their journey in the drone industry!
If you are a recreational or commercial drone operator, we offer specialist drone insurance cover that is flexible ranging from 1 day to annual cover! Find out more about what our drone insurance policy's entail and get a fast and free online quote today. 
Perhaps you would like to be featured on a Coverdrone blog? Simply get in touch with our team and email office@coverdrone.com today to discuss with a member of our team!