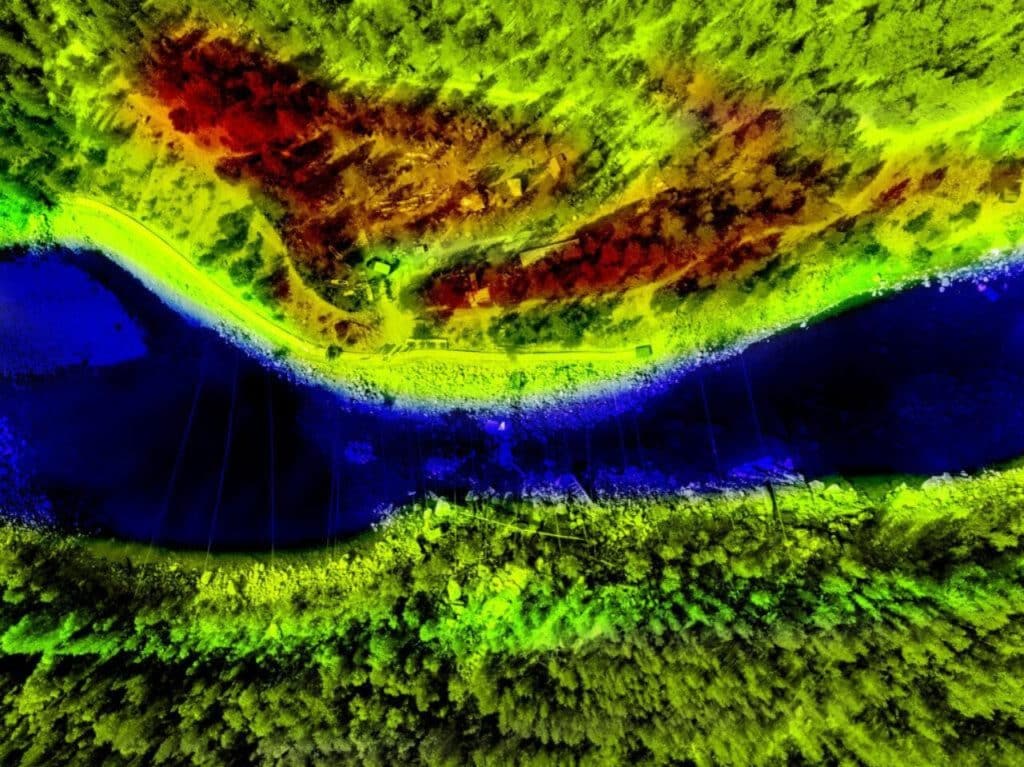 For surveyors and GIS professionals, a surveying drone offers an enormous potential. Drones are becoming an increasingly popular method of surveying from the air, as they are a fast, safe and extremely cost effective. For roof inspections, bridge or large building surveys, drones are fast becoming the sensible choice for engineers, construction and asset managers.
Benefits of Drones in Surveying
Reduce Field Time & Survey Costs – Capturing geospatial data with a drone is up to five times faster than with land bases methods and requires less manpower.
Provide Accurate & Exhaustive Data – Total stations can only measure individual points. However, one drone flight produces thousands of measurements which can be represented in different formats.
Map Otherwise Inaccessible Areas – Mapping drones can take off and fly almost anywhere, which means there are no longer limits on unreachable areas which were unsuitable for traditional measuring tools.
Examples Of Drone Survey Applications
Land Surveying / Cartography
Survey drones can generate high-resolution orthomosaics and detailed 3D models of areas where low-quality, outdated and even no data, are available. Cadastral maps can therefore be produced quickly and easily, within complex or difficult to access environments. Surveyors can also extract features from the images such as signs, curbs, road marks, fire hydrants and drains.
With photogrammetry software, after post-processing, these same images can produce very detailed elevation models, contour lines and break lines, as well as 3D reconstruction of land sites or buildings.
Land Management & Development
Aerial images taken by drones greatly accelerate and simplify topographic surveys for land management and planning. This is beneficial for site scouting, allotment planning and design, as well as final construction of roads, buildings and utilities.
As data collection by drones is easily repeatable at low cost, images can be taken at regular intervals and overlaid on the original blueprints to assess whether the construction work is moving according to specifications.
Precise Measurements
Highly accurate distance and surface measurements can be taken by drones. With 3D modelling software, it is also possible to obtain volumetric measurements from the very same images. This is useful for calculating stocks in mines and quarries for inventory or monitoring purposes as it is a fast and inexpensive method.
With a drone, surveyors can capture many more data points, hence more accurate volume measurements. This is a much safer wan than manually having to capture the data by going up and down a stockpile. As the drones operating and capturing from above, it cannot be interrupted. The short acquisition time enables capturing a snapshot on a specific point in time.
Urban Planning
Because of drones, urban planers can collect large amounts of up-to-date data in a short period of time and with far less staff. Images produced in this way allow planners to examine the existing social and environmental conditions of the sites and consider the impact of different scenarios.
Best Drones for Surveying
According to DroneRush & Heliguy, the below drones are the best commercial drones for surveying and mapping:
DJI Matrice 200 Series
DJI designed the Matrice 200 series to offer a versatile set of inspection capabilities. It's a great drone and is ideal for larger survey/construction projects. In this case, the DJI M210 RTK is ideal. The M200 Series as a whole are suitable, because they can carry a range of payloads, including the X7 camera which has a higher resolution than the P4 camera (24MP), as well as the thermal XT2, or the Z30 zoom camera.
Yuneec H520
The Yuneeec H520 offers a range of payloads, mostly allowing the drone to serve inspection, surveying and mapping needs. Retractable landing gear allows a 360-degree rotation of the camera, and the platform promises stability, even in high winds.
Yuneec Tornado H920 Plus
The Yuneec H920 Plus is a large, power hexacopter, made to haul larger cameras. Its unique modular design makes it possible for professionals to capture impressive photographs and video footage for a variety of uses. Operators can get a full 360° view with no obstructions due to the landing gear.
DJI Mavic 2 Enterprise
The Mavic 2 Enterprise features a 2x optical zoom camera, meaning that the drone can operate in close-range missions without putting the operator in danger. Other features include a 3x digital zoom, 4K/30p video recording capabilities at 30 frames per second and a 12-megapixel CMOS sensor.
DJI Phantom 4 RTK
An ideal drone for small land surveys is the DJI Phantom 4 RTK, an all-in-one solution which can achieve survey-grade accuracy with a camera that can capture 20MP images. The drone was designed to use RTK processing to produce highly accurate aerial maps. In addition to the RTK unit, the Phantom 4 RTK also uses a redundant GNSS (Global Navigation Satellite System) module that provides additional flight stability when flying in dense regions with poor RTK signal.
Ben Sangster, Heliguy's GIS Sales Executive, comments:
"When it comes to surveying, drones save money, reduce time, improve data collection and greatly enhance safety. Thanks to the constant advancement of this technology, using a drone to carry out survey work is becoming a more accurate and accessible solution. There are numerous DJI drones available to enhance your drone surveys, whether that's the Mavic Zoom, obtaining cm-level accuracy with the Phantom 4 RTK, the versatile M200 Series, or conducting agricultural surveys using the Phantom 4 Multi-spectral."
Surveying Rules & Regulations
As with any other operator, surveyors have to comply with the rules and regulations that surround drone technology. Surveyors need to ensure that if flying with any urban area, that they have obtained the relevant permissions to operate a drone commercially via the appropriate aviation authorities.