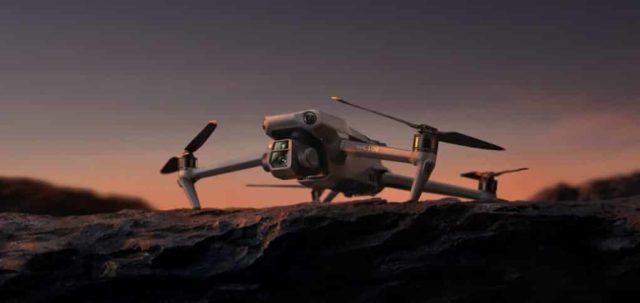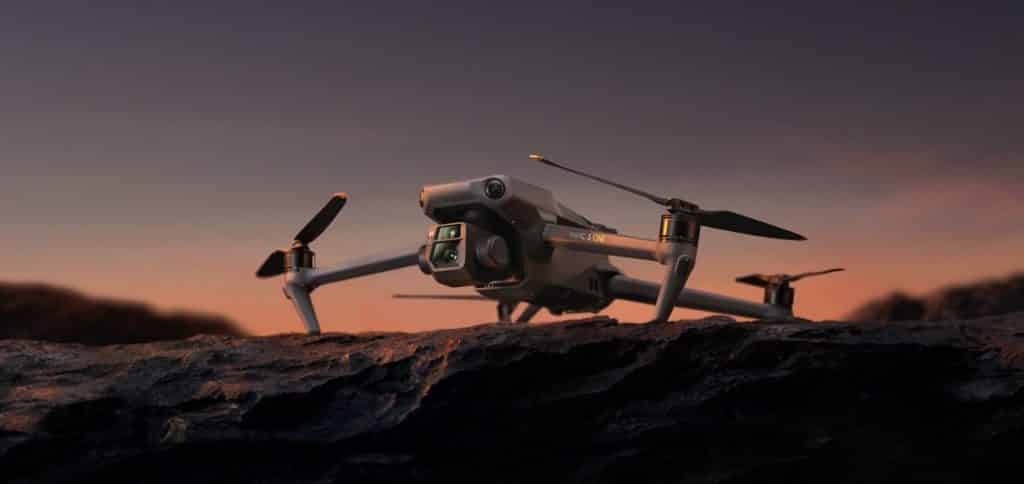 Finally, the wait is over… The DJI Mavic 3 is here! The brand-new launch for DJI's latest flagship drone was announced on the 4th November 2021. This was the final release of a triple launch over the past few weeks which included the DJI Ronin 4D on 20th October DJI's flagship full-frame camera. Soon to be followed by the launch of the DJI Action 2 on the 27th October, a multi-function action cam which DJI's state is their 'most powerful action camera yet'.
Who is the DJI Mavic 3 suitable for?
The DJI Mavic 3 itself is aimed at videographers, photographers, and professional film makers.  The DJI Mavic 3 Cine is ideal for professional film makers. Either way, the DJI Mavic 3 generation is a great range that can revolutionise your drone operations.
Let's explore the new features of the DJI Mavic 3, be aware that the DJI Mavic 3 Cine features additional exclusive key features!
DJI Mavic 3 key features include:
Hasselblad L2D-20c camera system
Dual Camera System – autofocus prime lens (20MP) and tele lens (12MP)
Hasselblad Natural Colour Solution (HNCS) provides incredibly rich and accurate colours straight from the camera
46-minute flight time compared to the DJI Mavic 2 Pro's flight time of 31 minutes
A 4/3 CMOS Sensor
Omnidirectional obstacle sensing, 'Multiple wide-angle vision sensors work seamlessly with a high-performance vision computing engine to sense obstacles in all directions precisely and plan a safe flight route that avoids them'
Shoots 5.1K with 50fps and 4K at 120 fps
28x hybrid zoom camera.
DJI Mavic 3 Cine exclusive key features:
Apple ProRes 422 HQ encoding for higher video processing– Exclusive to the DJI Mavic 3 Cine
A 1TB SSD drive is integrated directly into the drone so that you will never run out of storage
Includes the new DJI RC Pro smart controller.
Why are the DJI Mavic 3 sensors and dual cameras so special?
Taking a closer look into the specifications, the DJI's Mavic 3 has omnidirectional obstacle sensors with a maximum 200m range which means no matter if the drone is flying sideways or backwards, it has accurate recognition avoid objects during its flight because it can automatically sense them. DJI state that 'This also allows Active track 5.0 – 3D object detection – more advanced than before, providing safe and reliable tracking even of fast-moving objects in complex environments.
'It also enables Mavic 3's advanced return to home function as it combines these sensory capabilities with real time data to intelligently plan an optimum route back to the home point.'
The dual camera that is shared between all the DJI Mavic 3 editions has never been seen before on any DJI drones; it is a first for the DJI Mavic 3. The "Explore Mode" unlocks an additional ½ inch sensor tele camera which allows up to 28x zoom. This unique tele lens is great for if you are recording from a distance or a subject. This means that ever so carefully you can locate and plan your shot with minimal disruption of the chosen subject (like an animal for instance!) with the zoom feature.
Additionally, you can capture still images and video with the attachable wide-angle lens (15.5mm 108°) at 15.5mm. There is no doubt that you can take some breath-taking aerial footage with the scope this feature enables!
What is the Apple ProRes 422 HQ?
Exclusive to the DJI Mavic 3 Cine Premium Combo is the Apple ProRes 422 HQ. This encoding offers a much richer video processing which retains colour information and creates crisp, better-optimised copies of your aerial videography.
Insure your drone today with Coverdrone!
Have you treated yourself to the new DJI Mavic 3 and need insurance to cover your new drone? Coverdrone offer both commercial and recreational drone insurance to pilots so why not get a quote today! Or, alternatively, you can log into your online account and add your new DJI Mavic 3 drone onto your policy.