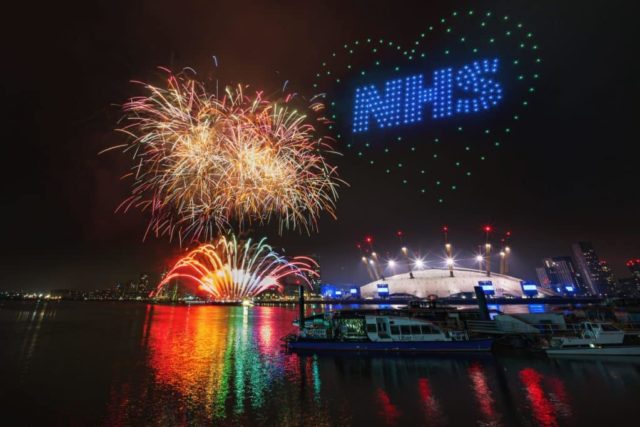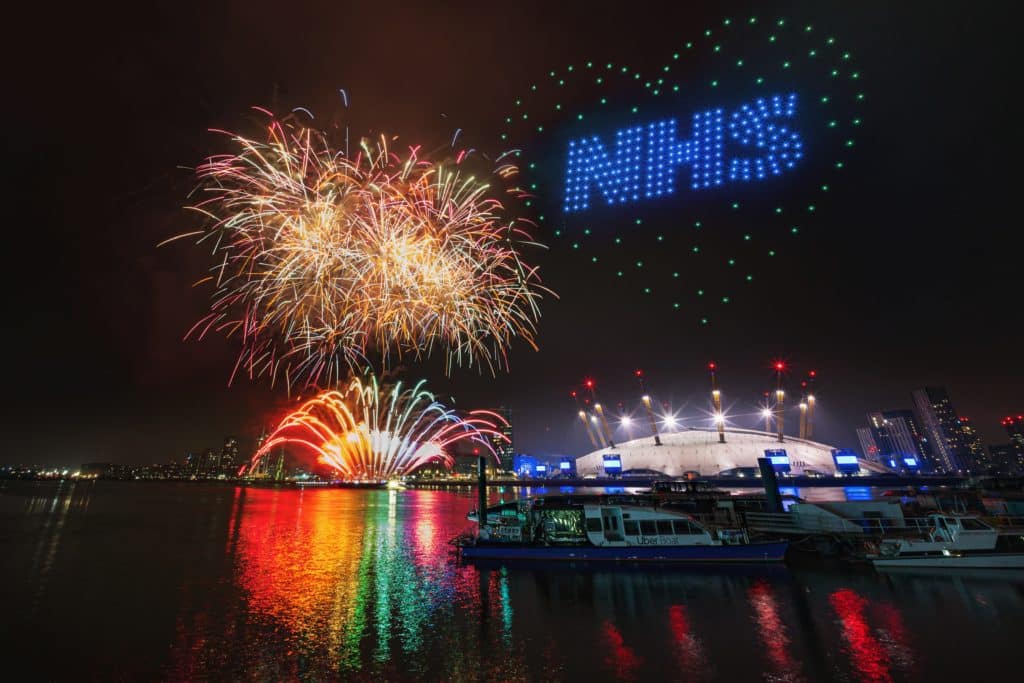 Imagine the sky lit up by drones and displaying a spectacular display all over the world, there is no need for fireworks or earth's stars to twinkle and light the skies! 
That is exactly what Coverdrone client SKYMAGIC do.
Based in Singapore and the United Kingdom, SKYMAGIC is one of the world's leading drone light shows.  It is a performance drone company utilising swarm technology. SKYMAGIC masters breath-taking drone art through their 'award-winning team of creatives, technologists, and storytellers'.
Director Mungo Denison gave an insight of the success and journey of SKYMAGIC to Coverdrone.
Taking it back to the beginning and finding their feet in the drone light show industry, Mungo said: "We identified drones and the potential for drones within the entertainment market as early as 2012. It took us until 2016 to develop the software and the hardware to be able to go live to market.
"We had quite a few false starts doing a huge amount of research and development to arrive at a solution that gave us what you see today."
In 2015, SKYMAGIC held their first show at the base of Mount Fuji as a part of an in-house marketing exercise. The showcase consisted of a two-minute film that enabled them to promote themselves and announce their arrival to the drone light show market. The short film gained over one million views and as a result, this generated vast interest and enquiries for SKYMAGIC.
Mungo remembers SKYMAGIC's first commercial activity. He said: "About a year later, towards the end of 2016, we did the opening ceremony for Dubai parks and resorts with 40 drones.
"We thought we were the absolute bee's knees and we have grown exponentially since then.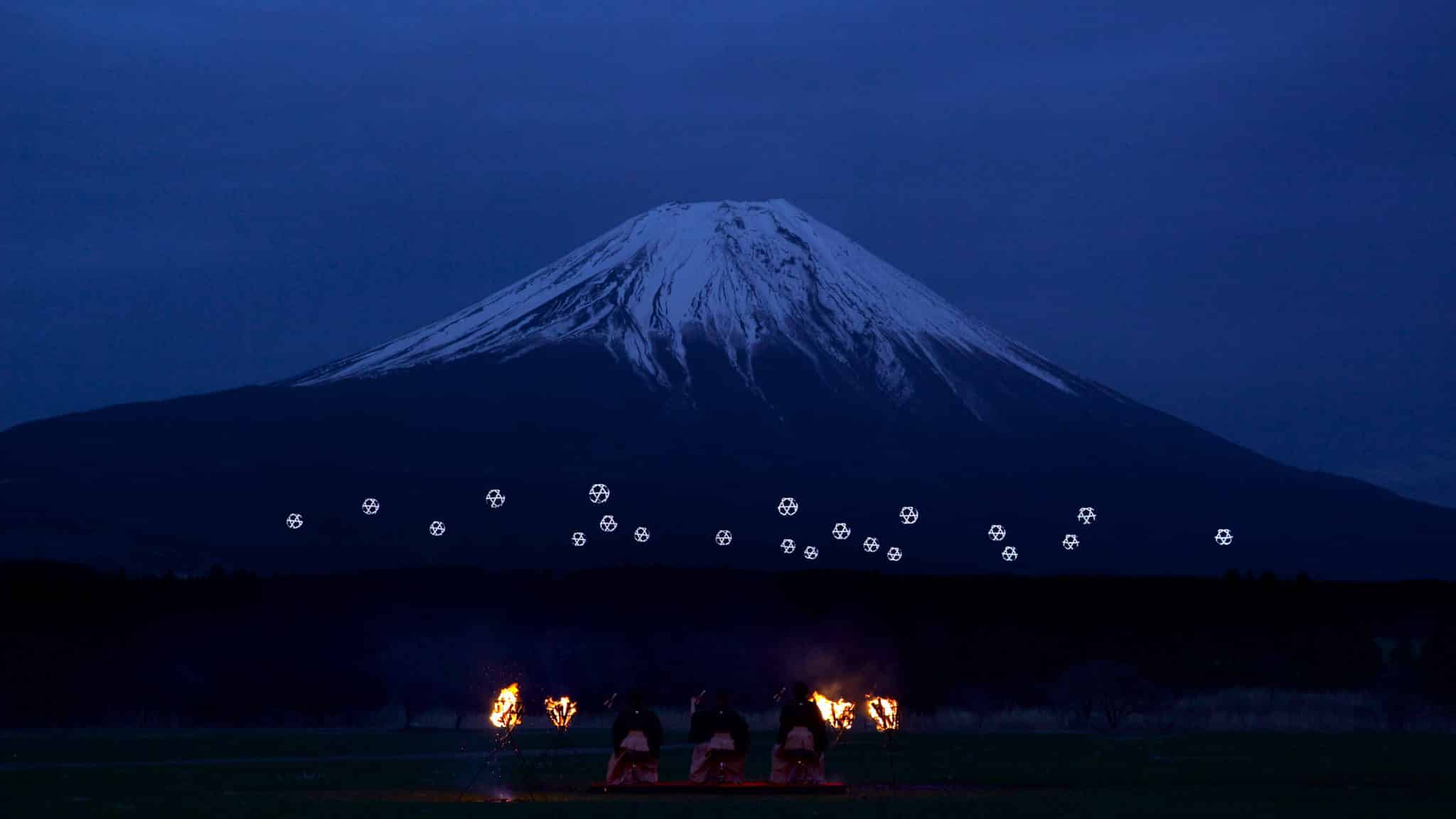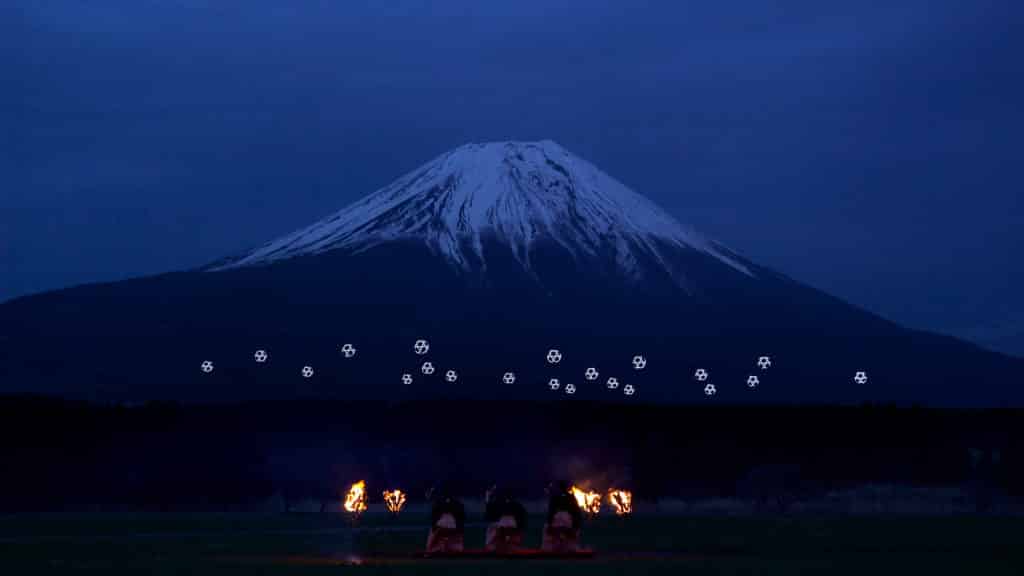 SKYMAGIC's most recent project was for Chelsea FC, above their stadium with 200 drones on the night of the European Champion's league final. The airspace that the show was held in was one of the smallest footprints that SKYMAGIC had ever operated in before.
Mungo said: "It was interesting as it all hinged on Chelsea being successful and winning that particular game.
"Chelsea approached us with not a lot of time to spare saying that they would like to go ahead, but only with the understanding of that if they lose SKYMAGIC didn't fly.
"It was a strange one it is the first show and only show that we have done where we were sat there with less than an hour to go with no idea at that point whether we would actually fly.
"It was terrific and great to have an opportunity to do that. There were 1000's of fans out on the streets who had no idea, in fact, as it was kept very secret within the club."
Planning, preparation and production
To curate breath taking, story-telling drone light shows SKYMAGIC go through two phases; the pre-production phase and the live phase.
Mungo delves deeper into the process behind it all. He said: "The pre-production phase is the point from which we contract. There is the creative, that is the most important part and the heart of the show.

"There are a number of drone show companies on the market, as a point of difference we pride ourselves on our story telling. What is the story our client wants to tell? How can we do that in an innovative way and continue to push the boundaries of what drones can do?

"Typically, that phase of the project we would be saying to a client, in an ideal world, we need 2-3 months where we can really finesse the creative. It is a very collaborative process, so we use a mixture of a blender and our own visualisation software so we can check in with the client regularly. They can view, comment and make amends all the way along.

When the pre-production elements are complete, SKYMAGIC move to the live phase. Typically, five days would be needed from load into the drones being show ready.

He said: "We do not send all the drones up at once, we step through starting with one, the ten, then thirty to work up to whatever the final fleet number is. On a lot of shows we are fitting into winder rehearsal schedule with dancers, lighting, and AV."
In some countries where SKYMAGIC showcase their spectacular shows like Morocco and Saudi Arabia, drones are illegal.  SKYMAGIC would be required to step through layers of bureaucracy and permissions involving security and police to provide information, trial and test the drones they would be using.

Mungo said: "One of the biggest challenges is working with the aviation authorities in the particular country we are in. It is new technology – still very much in its infancy. Pre Covid-19, from 2018 up until when things came to a halt last February, we had a run of shows in territories that had never had drone shows before, including Azerbaijan, Switzerland and Morocco.
"A lot of shows that we do across the Middle East have dignitaries in attendance and their own security detail.

"It's challenging but we always get there. It is about educating and demystifying. Seeing our clients and walking them through the whole process.
The UK Civil Aviation Authority visited SKYMAGIC in 2018 when they opened The Great Exhibition Of The North in Newcastle-Upon-Tyne to learn about drones. At the mesmerising drone show, it featured 100 drones with colour changing LEDs.

Mungo said: "The relationship we have developed with the CAA meant that when faced with a quick turn round drone show in Switzerland – somewhere that had never had a drone light show performance, we were able to introduce the CAA to their counterparts at the Swiss Aviation Authority to help allay their concerns."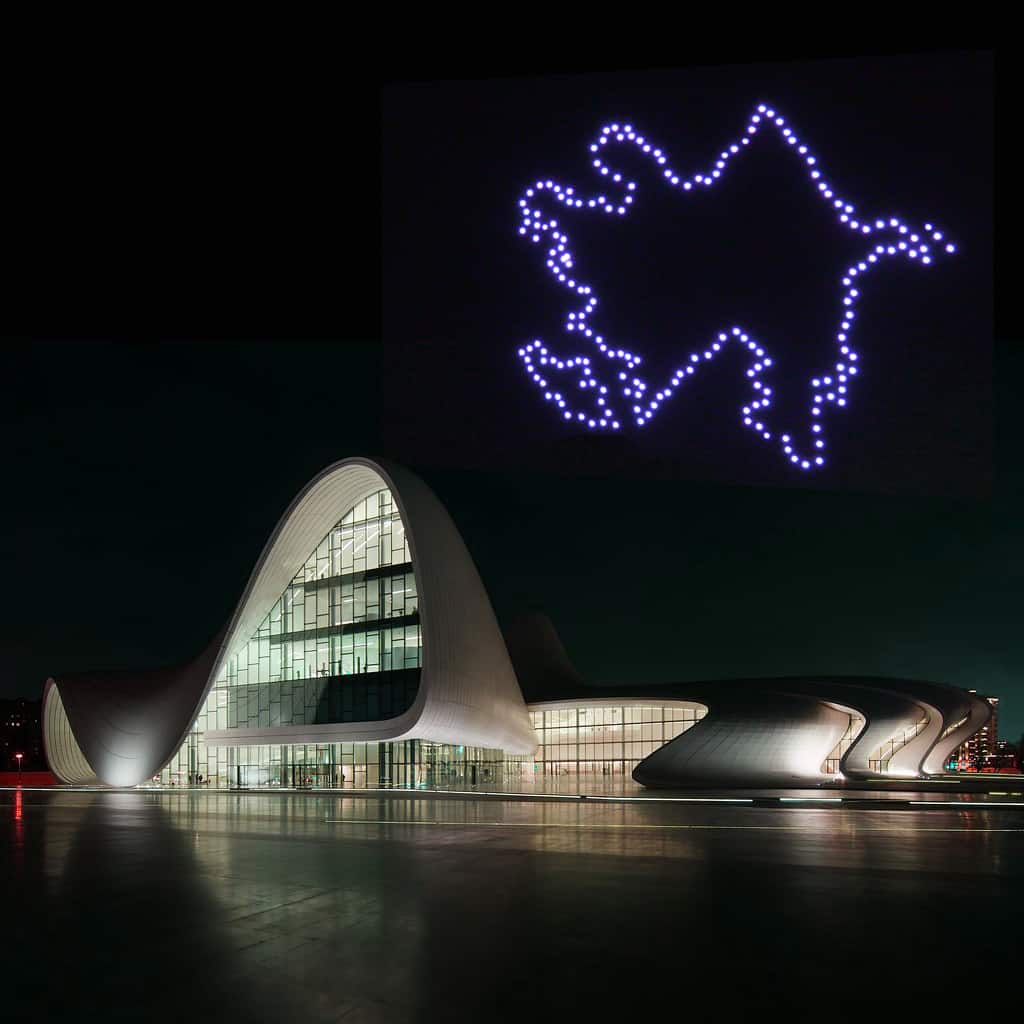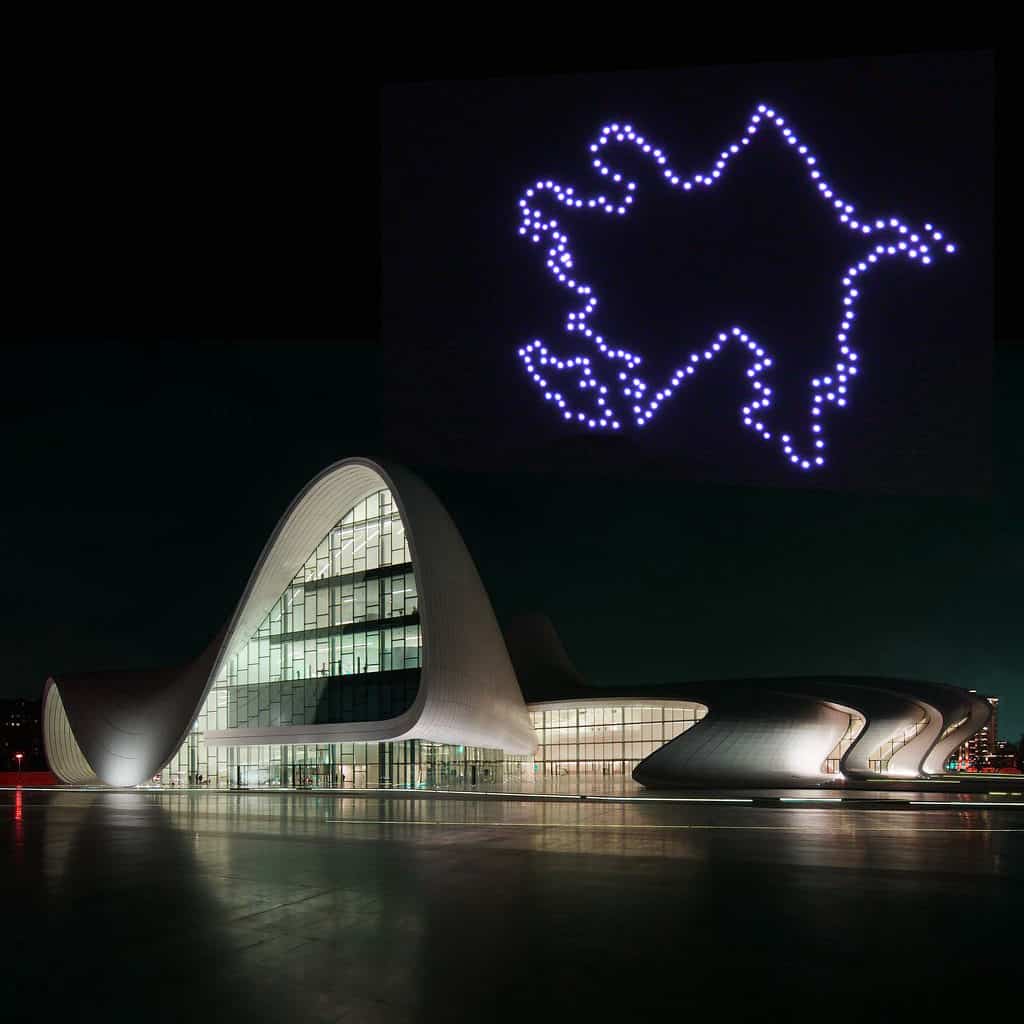 The excitement of working on set for SKYMAGIC
Being a part of the SKYMAGIC team may be challenging at times yet overall, rewarding. The excitement propelled from the outcome of winning a contract for a project and being a part of the creative process is a heart-warming experience for Mungo and the SKYMAGIC team.

He said: "The creative team are terrific. An exciting moment is seeing it in the air on show night and the audience's reaction as all too often we lose sight of what we are delivering when you work in live events."

"For our show in Baku, Azerbaijan, we flew above the Heydar Aliyev Centre building in front of 10,000 people. They were amazed having never seen anything like it before.
"I was watching grown men and women cry as we executed the outline of Azerbaijan all set to a traditional piece of Azerbaijan music.
"It was really overwhelming, there was a real emotional connection."
Milestone moments and future goals
Three moments that stand out to Mungo in SKYMAGIC's success are their first drone show at Mount Fiji, showcasing at London New Year's Eve celebration which was televised and how the SKYMAGIC team have performed over the last year facing the testing time of Covid-19.
He said: "London New Year's Eve was a real milestone and company goal for us. For reasons that aren't so great because of the pandemic, an opportunity presented itself and we were able to play a part in the celebrations, with a show designed specifically for television and shown live on BBC1.
"That was a very proud moment for everybody.  This year has been very tough and as a Managing Director, I am proud of how the team at SKYMAGIC have performed.
"It has been very tough. They have all been hugely resilient, innovative, and creative looking at new ways and applications for the drones. Be that lasers or pyro or vertical billboards.
This year, Mungo and the team at SKYMAGIC aspire to get back to the momentum they were enjoying pre-covid where they were showcasing 2-3 times a month. However, the restrictions on gatherings of people provided an opportunity for SKYMAGIC, creating more interest and awareness towards drone light shows.
He said: "Brands are seeing the value of using drone shows even with no live audience because they can clip it up and push it across social.
Mungo looks forward to the roll out of SKYMAGIC's indoor system with new resident shows planned for 2022.
Follow SKYMAGIC across their socials to stay up to date with their captivating journey and latest productions on: Instagram, LinkedIn, Twitter, Facebook, YouTube, and Vimeo. All their projects to date can be viewed on the SKYMAGIC website.