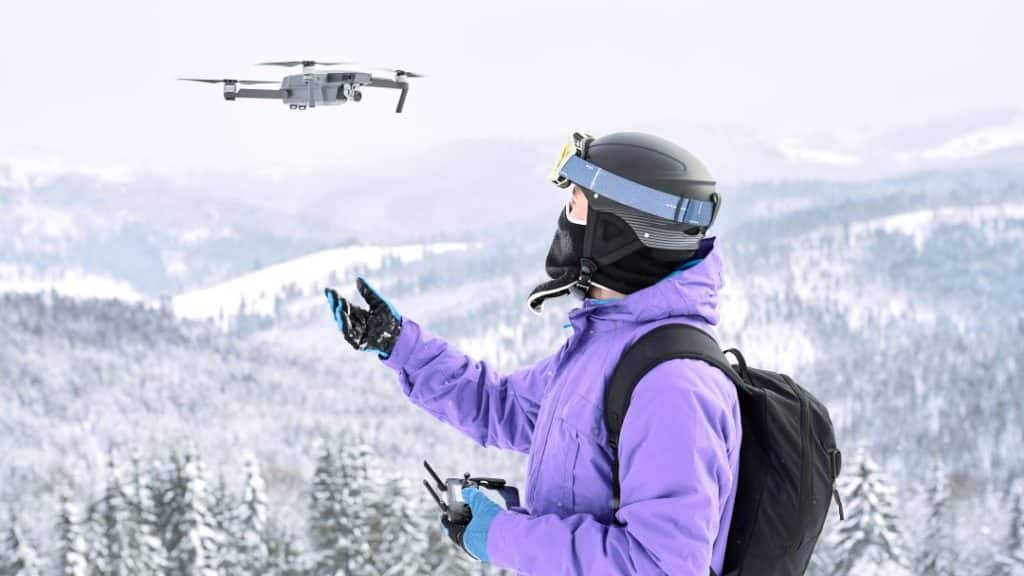 The colder months are creeping in… It's time to wrap up warm and protect your drone as you head outdoors to operate. Rain, snow, and freezing temperatures are quickly approaching us! 
During autumn and winter, it is more important than ever to take caution when flying your drone as these weather conditions can have an impact on your flight performance. From battery care to keeping frosty fingers at bay, we share our 5 top tips with you to fly safely as the temperatures continue to drop!
No matter where or when you are flying, preparation is key. Especially during winter and autumn! Get ahead of the game by planning your flight location before you set off and it is best practice to make a list of the range of images and footage you are wanting to capture. Also, make a note of equipment you may need to take with you and have charged up before you set off for take-off. Ensure that your drone and all equipment is packed safely and securely, everything needs to be well insulated and protected to keep the heat in! Of course, any locations that are considerably difficult to fly in (such as forests and over water) it is best to avoid them in these circumstances just in case you need to land your aircraft immediately due to poor weather conditions!
2. Avoid Airbourne Moisture
Drones have many intricate motors and sensitive electronics. They need to be protected as best as they can against airborne moisture which is a result of the rain, fog, and snow. Be mindful whether your drone is weatherproof and suitable to fly in the snow or rain. If it isn't, it's probably best to put the drone away for another day. Be mindful that flying through fog is not a good idea, you will lose visual line of sight. We know that your drone could have the potential to capture stunning shots of snowfall, but it really isn't worth putting your aircraft at risk If it hasn't been built and designed to fly in such conditions. Land your drone safely and immediately if it does meet contact with the rain or snow.  If your drone has been subjected to airborne moisture, carefully dry the drone with a towel and store carefully away in your carry case.
It may be obvious, but with the temperatures dropping it's time to layer up! Your fingers especially will be exposed to the cold air so gloves are a must have for when you are operating your drone! It is best to choose a touchscreen compatible pair of gloves with a good grip. Having a pair of touchscreen jobs ensure that you can still interact with your controller during operation! Additionally, a thick, wind ad waterproof coat is a must and will help keep you warm and comfortable whilst being outside for a long duration of time.

It is also important to keep any batteries and mobile devices warm because cold temperatures can have a detrimental impact to their performance and can sometimes shorten their battery life span.
Always be sure to check your batteries. As already mentioned, the cold weather can have quite an impact on your batteries and not in the best way! A great number of drones use Lithium Polymer (LiPo) batteries, and the cold temperatures can affect the chemical activity within them. Frequently monitor your battery health and make sure that they are working ok before operating your drone. We advise to have your batteries fully charged before flight so you can keep an eye of any unusual drone battery status activity. We recommend before your planned flight begins, to hover your drone for a few minutes to enable your battery to warm up.
You may be thinking 'Icing can't happen in the UK! It isn't cold enough'. Truth be told, it is possible if the temperatures are cold enough. It doesn't even take the temperatures to drop to 0 degrees either… Propeller icing is where ice builds up on the drone's propellers and can cause serious damage in the worse case scenario lead to your drone crashing. Icing is caused by the mixture of airborne moisture and cold temperatures. Avoid flying your drone in clouds or mist because this can put your drone at risk to propellor icing if the temperature is below 5 degrees. If you have suspicion that there are any signs of icing occurring during your flight, land your drone immediately and carefully dry your drone.
Our free FlySafe app is designed to help our customers plan and conduct their drone flights quicker and safer. The app is completely free to download and is compatible with both Apple and Android Devices. Coverdrone offer both commercial and recreational drone insurance policies, be sure to fly safe this winter with the correct drone insurance policy for you – we've got you covered!