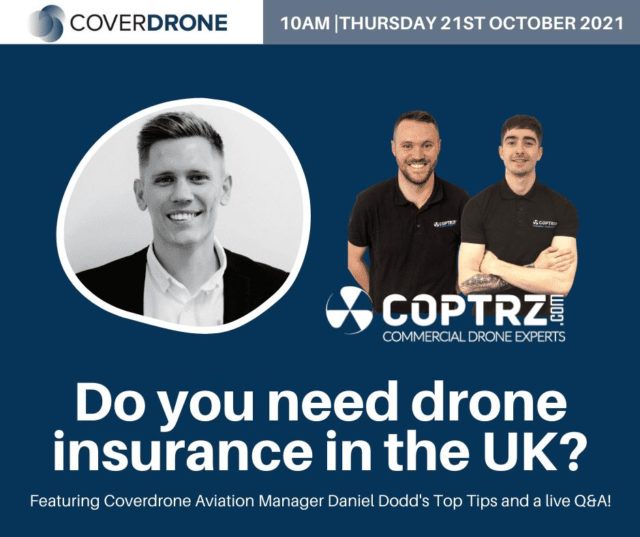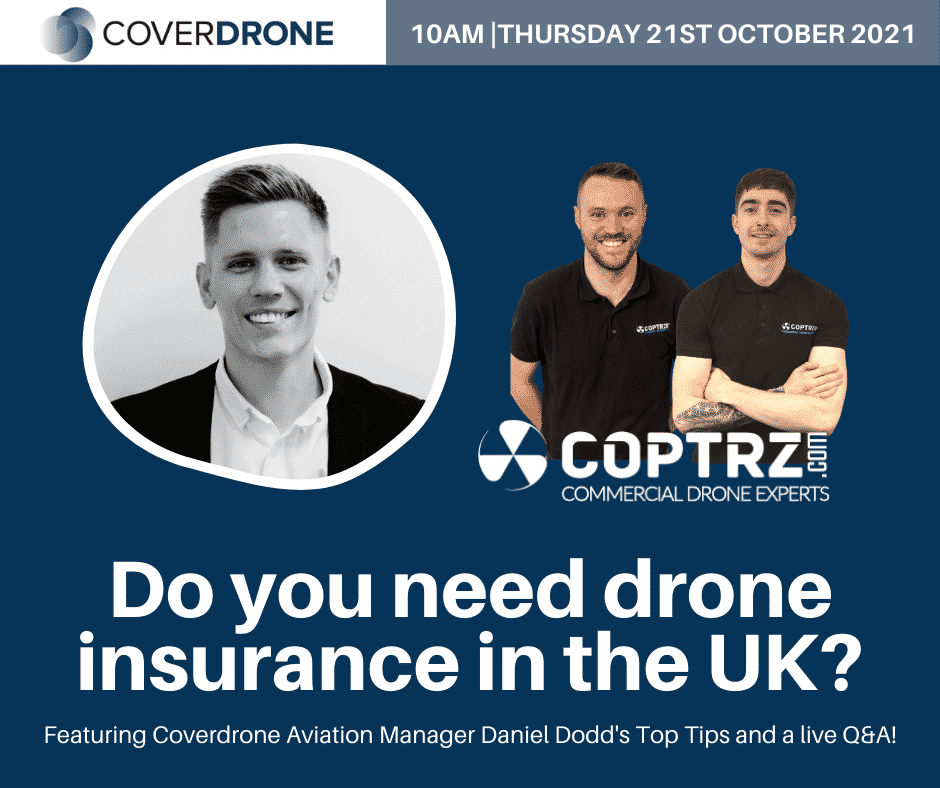 Coverdrone are excited to announce that next week, on Thursday 21st October 10AM (BST time) our very own Aviation Manager Daniel Dodd will be guest speaking at an exclusive live webinar with Coptrz! Daniel will be joining COPTRZ expert hosts Steve Blair (Sales Manager) and Danny Wilson (UAV Strategist) to talk about his top tips when it comes to drone insurance.
Have you ever wondered how drone insurance works and how to choose the correct policy for you and/or your business? This exclusive online webinar is the perfect opportunity for you to find out all you need to know about drone insurance policies and information which can help you decide what policy is best suitable to you.
Daniel will be covering all areas of drone insurance so whether you are familiar with what type of drone insurance you require or, you may be completely new to the industry and trying to find your feet in terms of what insurance you may need… There will be plenty of guidance and advice throughout the 45-minute live webinar to help you form a better understanding of drone insurance!
We aim to make our advice and information easy to digest, so that when you look at taking out an insurance policy it isn't as complicated or daunting as it may initially seem. At the end of the live webinar, it will conclude with a live Q&A where you are given the chance to ask any burning questions you may have about drone insurance to Daniel and the Coptrz team!
Coptrz are Commercial drone experts who cover Inspection, Surveying and Public Safety. Coptrz work with their clients to build a bespoke 360° drone solution.
Chelsi Smith, Coptrz Marketing Executive, said: "Coprtz are straight-talking drone experts that exist to build your organisation a 360° drone solution that saves money, reduces risk and improves business efficiency.
"With our unique dedicated sector experts, we consult deeply with you to understand your needs then develop a truly transformational 'impartial 360º drone solution' covering all aspects of planning, flying, and data acquisition/analysis".
Regularly, Coptrz host live webinars and events from their experts featuring guest speakers, masterclasses and so much more! We are very excited to be collaborating with Coptrz for our first live webinar with them.
Simply head over to Coptrz website where you can book your virtual seat for the event. Tickets are free and the webinar begins promptly at 10AM BST time. We look forward to seeing you there!