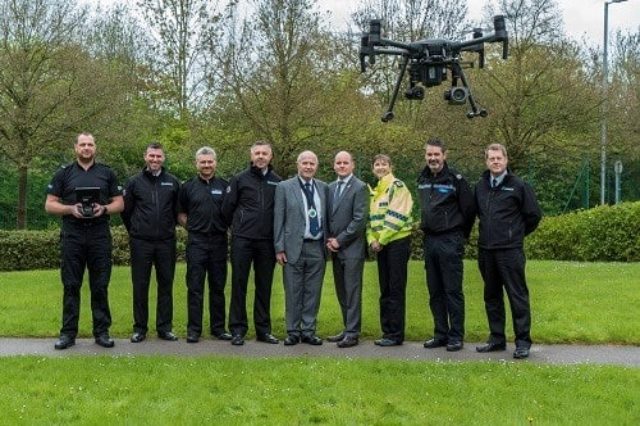 The long arm of the law just got longer as Cheshire Constabulary begin drone trials to assess the benefits of quickly deploying an eye in the sky to fight crime.
Unmanned Aerial Vehicles (UAVs) have become popular with crime units, local authorities and government agencies across the UK in recent years. The Cheshire unit has been monitoring the use of drones for some time, and will join twenty two other police forces already flying drones.
Biding their time means that Cheshire Police can now choose from an incredible range of UAV hardware. Agile, stable and robust drone units can offer the force a rapid and flexible response to cover incidents from above.
For a six-month trial period, a DJI Matrice 210 has been selected. It carries a powerful digital camera and a thermal imaging camera. When the drone's capabilities have been fully assessed, this will help to inform future plans about how the service can utilise small remotely piloted aircraft as part of day-to-day policing.
The force will have to consider public safety, insurance and liability issues like any other commercial drone operators, but the use of unmanned aerial vehicles has proved valuable to other forces. The state-of-the-art technology will be used to help tackle crime and monitor incidents across the Cheshire area.
The move to adopt drones as part of the force's operational capabilities is also linked to the Cheshire Fire and Rescue Service. As part of the test phase, three police officers and three firefighters will be trained to CAA-approved standards.
How Do The Police Use Drones?
With trained police officers, deployed over different shift patterns, the Cheshire Constabulary will be able to respond to a variety of situations with the drones – initially during daylight hours as part of the test period.
Potential uses include:
·        Assessing road traffic collisions and road congestion
·        Searching for missing people across challenging terrain
·        Identifying illegal cannabis farms using thermal imaging
·        Monitoring public events where large crowds gather
For the Cheshire Fire and Rescue Service, there will be significant benefits. For larger fires, where access to buildings might be restricted, the thermal imaging camera secured to the drone will feed vital information back to the commanding officer.  
The source of the fire will be easier to identify, enabling response units to target the right area quicker. The technology will increase safety for fire crews, giving them vital information before they enter danger areas.
Based at the Winsford Police and Fire HQ, the drone will not be used for general surveillance. However, aerial photography of crime and fire scenes will be quicker and more affordable than using helicopters or other external contractors.
Assessing traffic incidents will allow faster responses and ensure that other road users get up-to-date information about delays and alternative routes much quicker than relying on ground-based personnel. 
Sharing the equipment between services will ensure the best possible value for Cheshire taxpayers.  
The drone partnership between police and fire services has been described as a blue light collaboration project. It could herald the beginning of a productive working arrangement that benefits emergency services and public alike.
Coverdrone can support operators within the emergency services, local authorities and councils to ensure they too enjoy comprehensive drone insurance packages just like our many commercial operators. Visit our commercial policy features page for further information.   
We hope that the trial phase goes well…