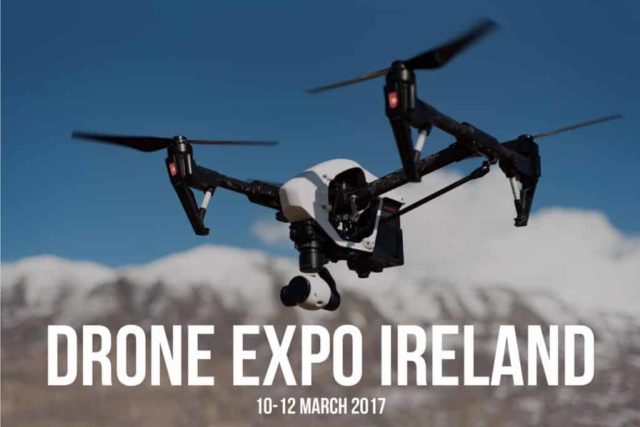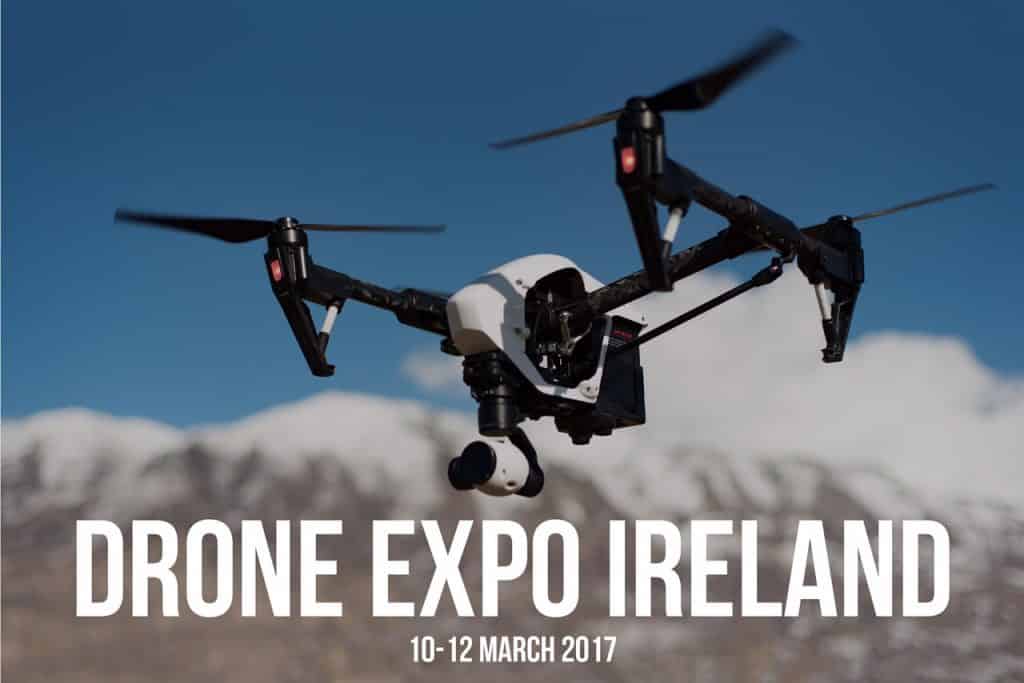 The burgeoning drone scene and its growing army of fans will converge on Dublin in March 2017 when the second Drone Expo Ireland lifts off at the fabulous Royal Dublin Society Exhibition Centre. Coverdrone is delighted to reveal that our drone insurance experts will be there, talking to commercials operators and giving newcomers to the industry the best possible advice about flying safely and ensuring that they have the right insurance cover in place. For Unmanned Ariel Vehicle (UAV) professionals, and enthusiasts who just enjoy the excitement of flying a drone, if ever there was a time to visit the vibrant and charming Irish capital city it's this March for one of the fastest-growing drone exhibitions on the circuit.
Drone Expo Ireland is a little different. Industry experts and professionals enjoy a focused business-to- business day when the exhibition opens on Friday 10 March, but the general public are welcome on the Saturday and Sunday. And there's something for everyone!
The sale of drones (also known as Remotely Piloted Aircraft Systems) has soared across the last few years, and the number of top-end and entry level machines being flown has grown exponentially. Last Christmas, drones were top of many present lists!
In Ireland, this booming industry shows no sign of slowing down. That's great news for Coverdrone, as our industry-leading comprehensive drone insurance products are ever-popular throughout the Emerald Isle.In fact, across the four corners of Ireland there has been considerable collaboration between businesses and organisations as the importance of drones has become apparent.
The country is now leading the charge to become one of the go-to destinations for drone development, associated hardware businesses, and the addictive racing tournaments that have become popular over the last 18 months.
Already up-and- running around Ireland, you will find aerial photography drone businesses producing breath-taking images of the Irish countryside for the glossy tourist magazines and TV adverts. There is a growing demand for aerial surveys by farmers, project managers and wildlife trusts. And don't forget the benefits of security footage to large estates, overhead video, maintenance photography, and even data gathering for research projects.
Coverdrone attended the 2016 Drone Expo and it was a soar away success. Set in a city that boasts magnificent architecture, colourful streets that ooze Irish charm, and of course the irresistible and very beautiful River Liffey, this year's Expo makes the perfect weekend get-away. Run by organiser Ian Kiely, visitors can be sure to experience the very latest technologies, the most knowledgeable speakers, some jaw-dropping drone demonstrations and access to multiple companies who will be on hand to provide the latest advice and information.
What Can You Expect From Drone Expo Ireland?
During Drone Expo Ireland 2017 you will be able to engage with drone company representatives who will be talking about camera specifications, UAV performance, data protection and liability, insurance, safety considerations and more. There will be technicians and hardware experts revealing the latest drone equipment on the market, plus previews of development models that will take commercial drone operation to new levels.
Sharing drone experiences and technical information will help everyone take their business forward, so Coverdrone wholeheartedly recommends embracing opportunities like this to grow contacts and gather vital tips that will be passed on by many of the gathered experts.
The drone scene is booming, and the fantastic Dublin Expo will grow each year. Coverdrone is now looking forward to what Ian Kiely and the exhibition team can deliver this March. We are also excited about meeting hundreds of potential new clients who can benefit from our extensive range of products.
Coverdrone offers full insurance cover (worldwide) when operators have gained the appropriate permissions to fly from the CAA. However, we listen to our customers and constantly innovate. We also offer Lite, Training, and Liability-only policies to suit all requirements.
This year's must-see drone event takes place at the Royal Dublin Society (RDS) Exhibition Centre at Ballsbridge, with doors open between Friday 10 – Sunday 12 March, 2017.
The Coverdrone team looks forward to meeting you there. If you're there make sure you come and visit us!