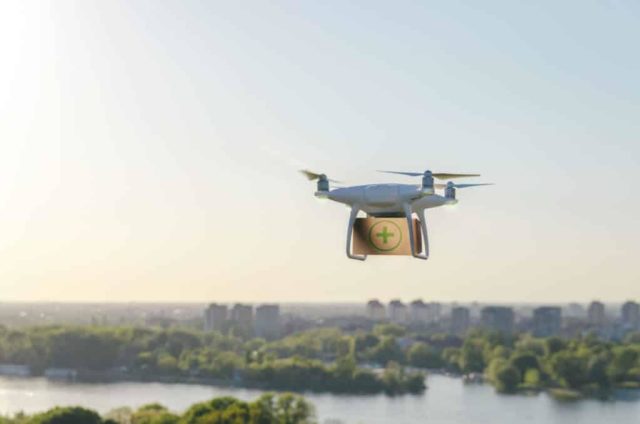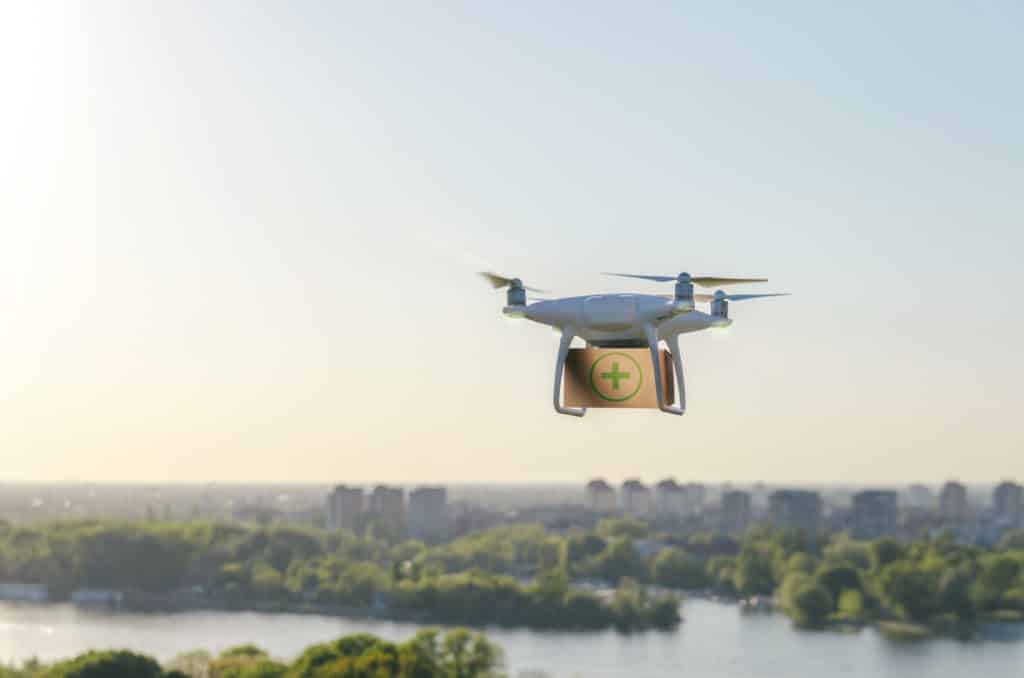 A medical drone delivery service that makes it possible to carry Covid-19 samples, test kits and personal protective equipment between hospitals has been backed by the UK Space Agency. Apian, an organisation that was founded by NHS staff as part of the NHS Clinical Entrepreneur Programme, aims to establish a network of secure air corridors for electric drones to navigate via satellite-enabled GPS. This will avoid courier call-out waiting times, free-up NHS staff, reduce unnecessary physical contact and minimise the risk of secondary transmission of the virus.
The project will be based at Broomfield Hospital, part of the Mid and South Essex NHS Foundation Trust and will be supported by the local Anglia Ruskin University as the academic partner.
Christopher Law, from Apian, comments:
"COVID-19 has highlighted challenges in NHS supply chain logistics. There has never been a better time to create a faster, more dependable, and environmentally friendly method of transporting medical supplies. We are confident that by setting up a medical drone delivery service, we'll be able to fly samples to labs more regularly, reliably and quickly, improving patient health outcomes."
Science Minister, Amanda Solloway, said:
"The efforts of the UK's space sector to support our incredible NHS during the COVID-19 pandemic have been truly inspirational. The projects we are backing today are fantastic examples of how our leading scientists are supporting those directly on the frontline to help prevent the spread of coronavirus".
Who Are Apian?
Apian was founded by Hammad Jeilani and Christopher Law, trainee doctors at the Barts and The London as well as Mid and South Essex NHS Innovation Fellows. Apian is installing 'drone pad' infrastructure so its aircrafts can take off from and land onto hospitals, laboratories, and warehouses. In doing so, the start up is creating new standards and best practice guidelines; written by the NHS for the NHS.
How Will The Drone Delivery Work?
Apian will scale the work from their drone trials by creating the UK's NHS Air Grid (NAG), a network of secure air corridors designed to enable drone delivery safely, rapidly, and effectively across the NHS. Apian is creating these corridors by working closely with the Civil Aviation Authority, UK Space Agency, and the emergency services.
Apian provides the interface between the health care and drone industries, creating a more demand driven, just-in-time system for delivering smarter, faster, cleaner healthcare. Its goal is to use evidence-based research to show how drones can improve care pathways and level-up health outcomes.
Whilst Apian's current task is to rapidly deliver COVID-19 samples and PPE is in line with both Government and NHS priorities, NHS England anticipates that the recovery-phase of this pandemic can significantly benefit from drones delivering other medical payloads including equipment, mediations, blood packs and more. Therefore, investing in their solution will continue to provide the NHS with an enhanced logistics system even after the pandemic is behind us.
Coverdrone Supporting The Commercial Drone Industry
We are continuously ready to support any form of commercial drone operation which is improving society with our hugely beneficial commercial policy. If you would like to discuss a commercial drone insurance quote with us today, please do not hesitate to get in touch with a member of our team.
News source: www.gov.co.uk